AñoNuevo2011 – Argentina - 1/ Paso"PINOHACHADO"– CHILE.Lonquimay/ARGENTINA.LasLajas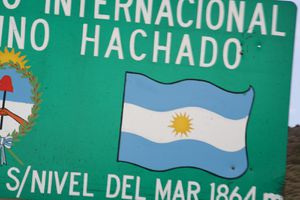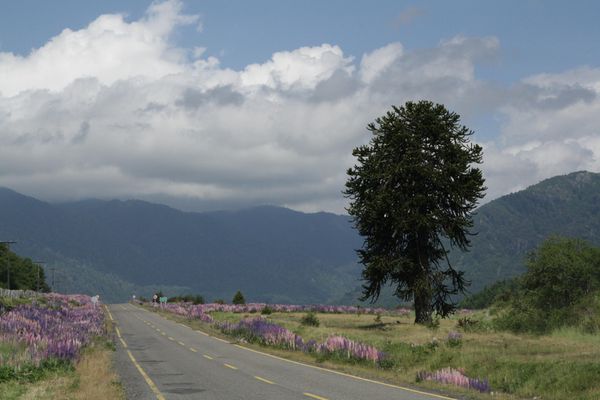 (La route de Curacautín-Chili pour atteindre Lonquimay via l'interminable tunnel de 4km "Las Raices". The road of Curacautín-Chili that leads to Lonquimay via the unending 4kms long- tunnel "Las Raices".)

La blague c'est qu'on est tellement chez nous au Chili qu'il faut maintenant aller chez les voisins pour avoir un peu de dépaysement ! Et ca fait toujours du bien, meme si le Chili et ses montagnes me manquent toujours bien vite. Donc la semaine derniere, on a décidé d'aller passer le nouvel an en Argentine.
Ce n'est pas la premiere fois qu'on va au pays des Gauchos mais bien la premiere qu'on en revient avec des photos. La fois derniere, je me suis fait voler mon petit sac a dos avec tout dedans et surtout nos photos… relatant pourtant un voyage en voiture de presque 4000km aller retour, Chillán-BuenosAires. Dommage.
Cette fois.ci, on est passé en Argentine par la douane de Pino Hachado, a 300km au sud de Chillán, du coté de Lonquimay. Comme son nom l'indique, Pino Hachado… « Pin coupé » cette région était autrefois remplies d'Araucarias ("Pehue" en mapuche), l'arbre emblème du Chili et de la Patagonie Argentine, dont il reste aujourd'hui tres peu de survivants et qui sont protégés, enfin ... en quelque sorte.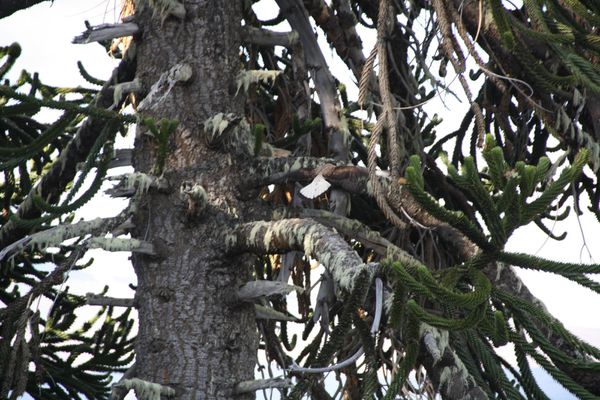 (Grosse prise de vue sur un araucaria. On a essayé de prendre en photo un aigle américain qui etait dessus, magnifique mais il s'est envolé a l'instant. On peut juste en voir la queue en fait. Big picture of an araucaria. We actually tried to take an american eagle that was resting on the tree but he left off just at the instant. Can still see it though.)
The funny thing is that we feel so much at home here in Chili that we need to go and see our neighbors from the other country to get some new experience! And it always feels good. Although I get to miss really fast Chili and its mountains once I am far away. So last week, we decided we would go to Argentina for New Year's Eve.
It is not the first time we go to the land of the Gauchos, but the first time we come back with pictures. Last time we did, my bag was stolen with everything inside, including my camera… with images of our trip in car up to Buenos Aires, more than 4000km way and return. A pity!
This time, we went to Argentina through the frontier of "Pino Hachado", 300km South of Chillán, passing Lonquimay. As it says, Pino Hachado, " Cut Pine", this region was previously full of Araucarias, the Chilean Tree symbol of Chili and Argentinan Patagonia. There are survivors now and are protected… well... somehow.
COTÉ CHILI-CHILEAN SIDE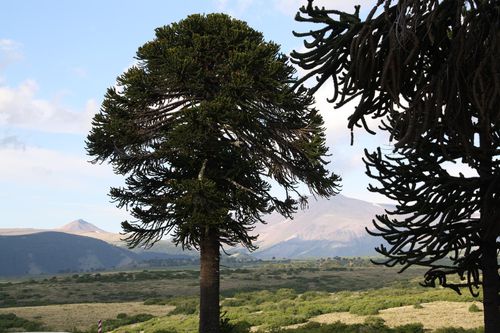 On était un peu dans les nuages, dommage car on aurait bien aimé pouvoir prendre le Volcan Lonquimay et son voisin le Tolhuaca en photo, mais encore une fois ce fut impossible. Il y a 3ans, nous avons eu la meme expérience.
Mais il faut dire que les volcans sont généralement de grands timides, ils se dévetissent rarement, et souvent enlevent le haut ou le bas mais pas facilement les deux a la fois.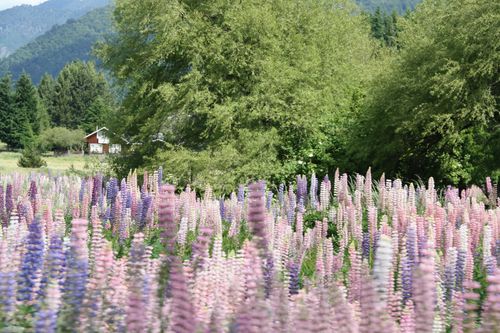 It was really cloudy when we left so it was not possible to take picture of the Lonquimay Volcanoe nor of its neighbor, the Tolhuaca, once again. 3 years ago, we missed the opportunity for the same reason.
But it is true that volcanoes are kind of timid lets say, they seldom "take it all of".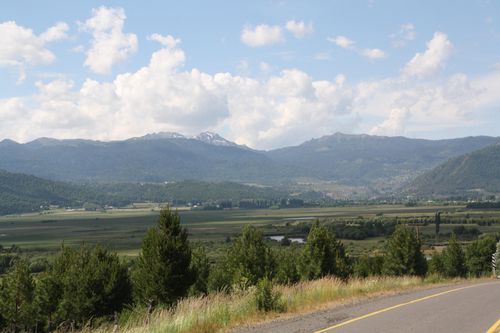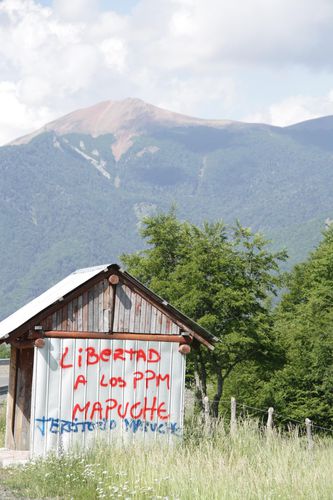 (On fera pas de politique,,, mais on doit bien avouer que la question indigene a l'air quand meme beaucoup plus tendue au Chili que ce qu'on a pu en voir en Argentine oú les communautés indigenes ont l'air beaucoup plus organisées et semblent avoir quand meme un peu plus de droits qu'ici. We will not do politics ... but we must confess that the indigenous situation in Chili seems far more tense than what we have seen in Argentina where the native communities seem to be far more organised and have more rights than they have here.)
COTÉ ARGENTINE-ARGENTINA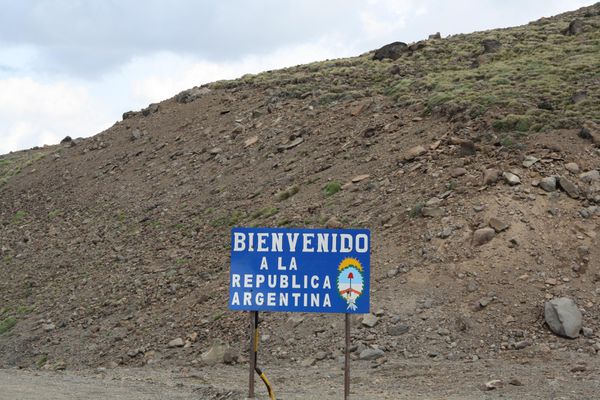 Et voila…
Et comme a chaque fois qu'on a passé la frontiere vers l'Argentine….on se retrouve dans un paysage qui ressemble a un vrai désert, tout sec et tout étendu jusqu'à n'en plus finir. Car c'est le Chili qui généralement recoit toute l'eau, qui stoppe contre la cordillere, se deverse et n'a alors plus grand-chose a donner de l'autre coté des montagnes. Et tandis que l'un a les montagnes tres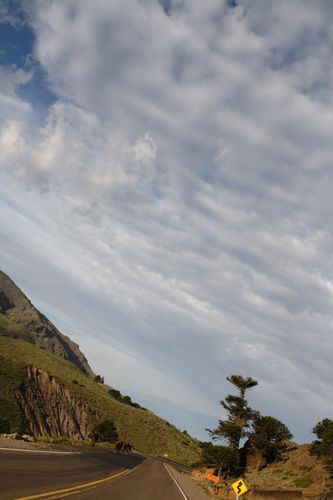 abruptes (Chili) l'autre descend tout doucement, tout doucement sans meme qu'on s'apercoive qu'on est encore tres haut en altitude. La différence est toujours tres tres étonnante et partage toujours les gens entre ceux qui sont fan de nature verdoyante et luxuriante et ceux qui préferent se retrouver dans le desert et ses grandes étendues.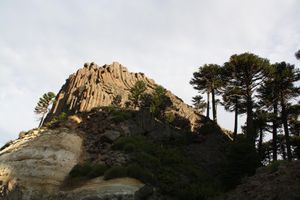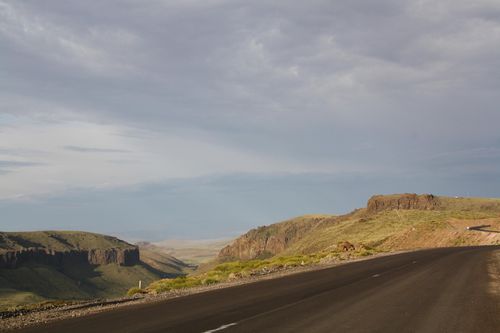 And here we are…
And as everytime we pass the frontier to Argentina…. We find a landscape that looks like a desert, dry and very stretched to the horizon. It is often Chili who receives the cloudwater that stops against the mountains leaving few water to cross the frontier.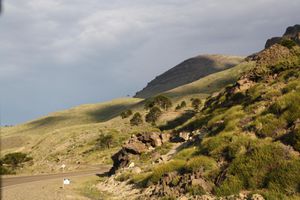 And whereas one has very steeped mountains (Chili), the other one goes down very smoothly somehow without noticing that we can still be high in altitude though.
The difference is always very astonishing and often separates the people between those who prefer the lush and super green nature or those who like to be in the desert and its huge horizonwide spaces.