Antuco - Parque Nacional Laguna del Laja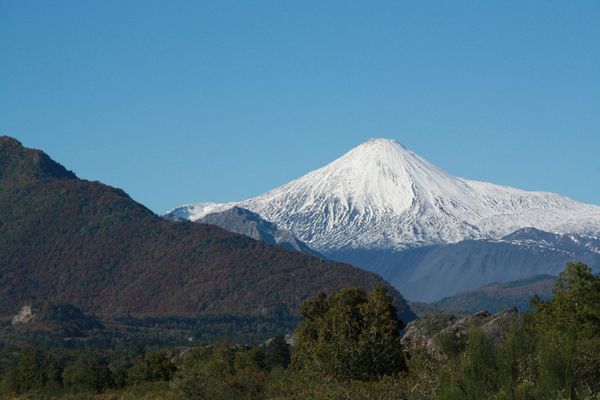 Cela faisait presque 2 ans que nous n'etions pas retournés a Antuco.
Nous y sommes allés dimanche dernier, en plein automne, pour que Thom y prépare sa sortie de terrain avec ses élèves cette semaine. Mais nous n'avons pas pu nous rendre jusqu'a la Lagune cette fois-ci car un éboulement de paroi rocheuse due au tremblement de terre ferme l'acces au parc aux voitures.
Et avec une choupinette... meme en sac a dos... pour y arriver en marchant.... c'est loin.
Ceci dit, nous avons marché sur le chemin que normalement on emprunte en voiture pour arriver jusqu'au parc et finalement ce fut aussi tres agréable car nous ne l'avions encore jamais fait. Et c'est si beau.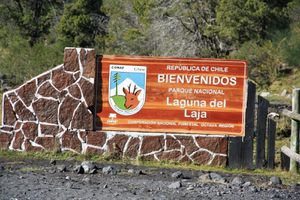 Antuco est le prochain volcan majeur sur la cordillere (en direction du Sud) apres ceux de la vallée de Thermes de Chillán. Avec les Thermes, il fait partie du Corredor Biólogico NEVADOS DE CHILLÁN-LAGUNA DEL LAJA.... (enceinte de protection majeure car elle renferme une des dernieres populations de Huemul de la planete; une de l'espece des Cervidés).
Meme si sincèrement, on doute de plus en plus de la valeur réelle de ces enceintes de protection environnementale..... car le Chili est tristement, tres tristement, une des betes noires des écologistes, car sa politique économique et son ambition démesurée pour son "Développement" (on met ca entre "" car leur définition du développement est loin d'etre la notre) lui fait petit a petit transformer sa cordillere en barrages et sa foret native en cultures de Pins et Eucalyptus.
Un jour... un jour nous devrons en parler. Un jour... un jour nous devrons aborder les hérésies environnementales du Chili... mais le sujet est tellement vaste qu'on prend notre temps-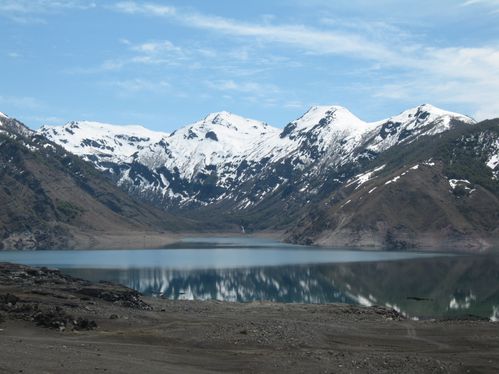 Pour en rester avec le volcan Antuco et le Parque Nacional Laguna del Laja, nous avons posté un album photo qui reprend plusieurs périodes. Avril et Octobre 2008 (pour celles d'avril ce sont celles de la maman de Thom). Et celles que nous avons prises dimanche, fin mai 2010.
Il y a de nombreux sentiers de randonnée au sein du Parc qui valent le coup car ils sont magnifiques et donnent des vues sublimes sur des cascades.
C'est un lieu rempli d'eau. Elle coule de partout, sous toutes les formes et donne lieu a des cascades innombrables, de toutes les tailles.

Il existe une voie de randonnée dans la cordillere qui relie les volcans Chillán et celui d'Antuco... ca fait partie d'un de nos projets!

Depuis Antuco, on peut aussi rejoindre nos voisins Argentins. Mais nous n'avons jamais pris le paso donc on ne sait pas comment est la route.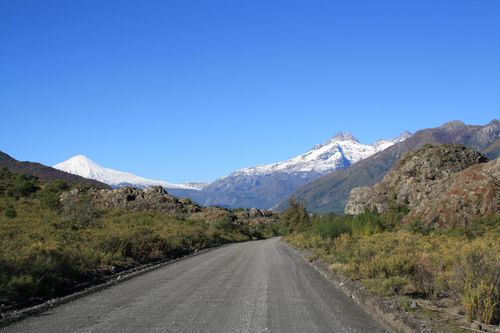 Almost 2 years had passed since our last visit to Antuco.
We went back there last Sunday , in full autumn, so that Thomas can prepare his class when he is going to go there with his students this week. But we were not able to reach the Laguna this time because the road was closed after some rocks had fallen on the car.access to the Park, after the earthquake.
And with our little one… even in a special backpack… it is still very long to reach it by walking.
However, we walked on the road that we usually take by car to reach the Park and it was also very beautiful this way, because we had never done it as such.
Antuco is the next major volcano on the Andes chain (downsouth) after the ones of the Termas de Chillán. With the Termas, it is included in a Corredor Biólógico NEVADOS DE CHILLÁN-LAGUNA DEL LAJA… a special site of environmental protection that includes one of the latest population of Huemules on earth; a specie of Cervideas….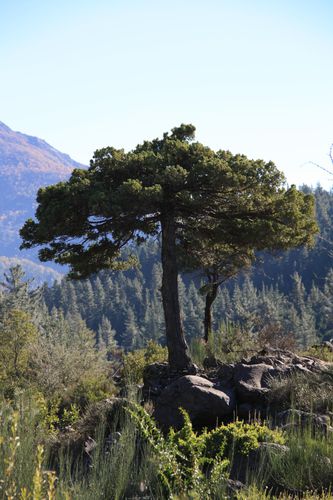 Eventhough we are less and less convinced by these sites of protection in Chili… as this country is really one of the dark sheeps of ecologists.
Chili is so overly obsessed by its "Development" (we put "" because we really do not share though the same definition of development than the one they have here) that it is slowly but surely transforming all his amazing valleys into hydraulic dams and its native forest into intensive cultures of Pines and Eucalyptus.
One day … one day we'll talk about it, about the environmental aberrations of the country. But the subject is so vast that we are taking our time.
To go back to Antuco and the Parque Nacional Laguna del Laja, we've posted a photo-album of pictures from different periods of time. April and October 2008 (those of April were taken by Thom's mother). And end of may 2010, that we took last Sunday.
There are many hiking trails in the Park that are amazing and that will lead you to sublime falls. It is a place that is filled with water, water everywhere, under every possible form and that produces an enormous amount of falls everywhere, of every sizes.
There is a hiking trail that goes from the Chillán Volcanoes to the one of Antuco… and that is one of our hiking projects!
From Antuco, you can also drive to Argentina but we've never taken the paso so we don't know how the road actually is.