BILZ - Message des Abribus / BILZ - Message of the Bus Shelters

"Bilz" c'est la marque d'une boisson soda made in Chili.
Et comme j'aime beaucoup leur slogan "Yo Quiero Otro Mundo" (Je Veux un Autre Monde), je me suis dit que j'allais poster une photo d'un des abribus qui en fait la pub.
Ces petits abribus sont typiques et apparaissent un peu partout tout le long de la route qui mene aux montagnes et aux Thermes. Ceux qui sont deja venus chez nous les reconnaitront surement.
PS_: De ce qu'on a pu voir jusqu'ici, les Chiliens sont d'enoooooormes consommateurs de boissons gazeuses, de toutes les couleurs et de tous les gouts. On n'avait jamais vu ca avant. Sur une table de repas, on n'a encore jamais vu un pichet d'eau, mais par contre, il y a toujours des bouteilles de sodas, qu'ils boivent comme nous on boirait de l'eau (ou du vin pour les francais)!
"Bilz" is the brand of a Soda made in Chili.
And I really like their slogan "Yo Quiero Otro Mundo" (I want Another World), so I wanted to post this picture of one of the bus shelters that make the promotion of the soda.
These small bus.shelters are very typical and are appearing all along the road to the mountains and the Termas. THose who already came to visit us will probably recognise them.
PS_: From what we have seen so far, Chilean are biiiiiiiiiig consumers of sodas, of all colors and all tastes. We had never seen this before. On a table, we have very seldom seen water, but bottles of soda, yes, always many, that they drink as we drink water (or wine for French people)!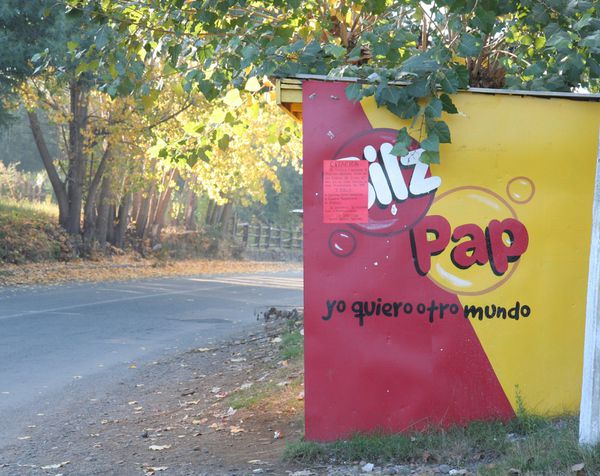 PS2: Soit dit en passant, les abribus ne servent pas vraiment en tant que tels, car ici, on attend, on prend le bus et on en descend n'importe oú tout le long du chemin, au plus pres de son point de depart ou de destination.... ca donne parfois que deux personnes vont faire s'arreter le bus a seulement 15metres d'intervalle sur le chemin. Au debut, on trouve ca un peu dingue, nous qui sommes habitués avoir des arrets fixes, et puis on y prend gout, sauf quand on est pressés et qu'on aimerait que le bus aille plus vite...
PS2: The bus shelters do not really serve as such though, because here, you wait for, take the bus or go down from it anywhere along the way, the closest to your point of departure or your destination.....this means that you can see 2 people who will stop the bus between the distance of 15metres only..... At first, you think it is incredible when you are used like us to have fixed points to wait or stop, and then you kind of learn to like it in fact, except when you are really running late and would like to see the bus go faster.....