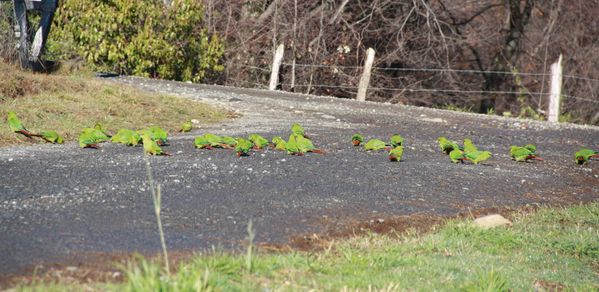 Ils avaient disparu en fait. Ca faisait tres longtemps que je ne les entendais plus et qu'on ne les voyait plus non plus.
Mais hier ces jolis perroquets typiques ( et tres bruyants) sont réapparus, et chose tres rare, se sont posés longtemps sur le sol.
J'en ai profité pour les prendre en photo, meme si le résultat n'est pas terrible. On les appelle les Cachañas (Enicognathus ferrugineus). Ils sont aussi appelés Catita , Caturra austral ou Cotorra fueguina.
Ce sont des perroquets qui se retrouvent a partir de la zone centrale du Chili et de l'Argentine jusqu'à la Terre de feu. Ils font partie des especes de perroquets en voix d'extinction donc sont protégés. Il y a deux autres especes de perroquets au Chili qui sont tres connus qui sont les Tricahue (aussi en voix d'exctinction) et les Choroy.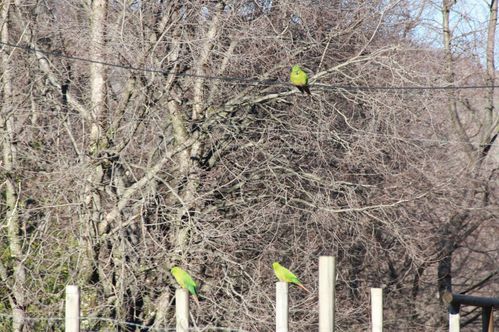 They had disappeared. I had not seen them and couldn't hear them either for quite some time.
But yesterday, these really nice (and quite noisy) parrots reappeared, and very rare thing, they stayed a little while on the ground.
It gave me some time to take some pictures, but the result is not as good as expected. They are called Cachañas (Enicognathus ferrugineus), can also be called Catita, Caturra austral or Cotorra fueguina.
They can be found from the central zone of Chile to Patagonia. And they are considered an endangered species. There are other very famous types of parrots in Chili, and amongst them, the Tricahue (an also endangered specie) and the Choroy.