Chile ayuda a Chile - Telethon2010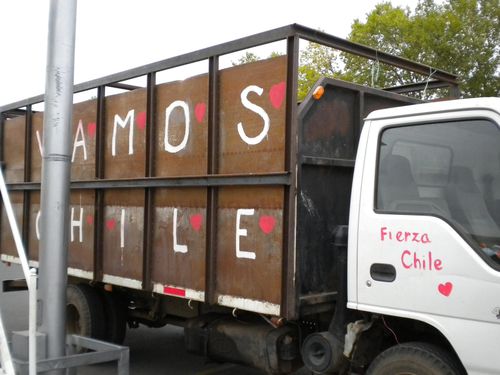 Voici le message (en anglais) de Barbara, une amie chilienne de Santiago qui travaille a la télévision et qui a participé a l'organisation du Telethon « Chile Ayuda a Chile » (le Chili aide le Chili) qui a eu lieu vendredi dernier pour récolter des fonds pour construire des maisons d'urgence.
Une telle participation de tout le pays, comme nous vous le disions, que l'emission a récolté plus du double de ce qui était prévu initialement.
Elle a ecrit un petit témoignage et donne ainsi aussi une image de ce qui se passe a Santiago en ce moment.
Merci beaucoup Barbara.
Here is the message of Barbara, (in english), a chilean friend who works for TV here, and who participated to the organisation of the Telethon "Chile Ayuda a Chile" (Chili helps Chili), organised on last Friday, to fundraise money for building emergency homes.
Such a participation all over the country, as we said it earlier, that the show collected twice the initially expected amount.
She wrote about it and her experience and gives as such a good image of what is happening in Santiago at the moment.
Thanks a lot Barbara.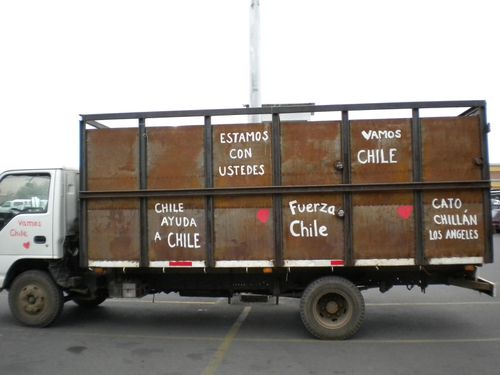 Here is her message:
"I had the honor and pleasure to be asked to participate in this extraordinary Telethon in aid of all the people who suffered after the Earthquake and the Tsunamis. I have participated in the last Telethon that is held every year, which takes months of preparation, but we did not have months, we had 4 days. Still, this Telethon was no different than the others; the Chilean people were there to show their support and give whatever they could give to help.

The companies behaved marvelously, not only giving out money but also anything material that was necessary to assist people who lost it all. I was on the phones connecting international calls, nevertheless during the day I also had MANY local calls from several small towns within the country, known to be inhabited by very hard working people without much means, and they were calling to inform that the only bank in town (Telethon had the support from 2 of the biggest banks who opened a special account to people are prompted to go and deposit there) was closed, some did not have internet or credit card, so they didn't know how to help, and one actually told me "Miss, I could take a bus and go to the next town but that would cost me $2.500 pesos and that is exactly the amount of money I can afford to give, so..."

These people really wanted to give whatever they could, so, at times they sounded pretty upset and even aggressive for not being able to give. I mean, how common is that?!?

I don't think I can accurately describe the atmosphere here in Santiago the days before Telethon, with people showing their support with Chilean flags on their cars and homes (not to mention Twitter and Facebook), the buses all painted with messages of support...and the atmosphere in the Telethon theatre itself was completely out of this world, a parallel dimension. In one hand; all the artists and people working in backstage since Friday and therefore completely exhausted as Saturday started, on the other hand; the banks mostly full of people donating, events on the main cities with people motivating people and asking them not to forget about their fellow Chilean citizens who were not as lucky as they were. By the time Telethon was over and after the touching words of our current (only for less than 48 hours more though…) president, the total amount of money received was reveled, showing the deep and sometimes seemingly endless generosity of the Chilean people, one could not help but feeling incredibly proud of being born in such a nation, a nation that can stand up a week after a massive hit, and it doesn't stand looking defeated, it stands with a big smile and a beating heart, that's the Chile I know, its beauty does not lie only on the amazing deserts, lakes, mountains, volcanoes, beaches and woods, the true beauty and richness of this country lies on its people, and it was amazing to see its true colors shining strongly again this past Saturday night."
Barbara

http://elplanetaluz.blogspot.com/
http://thelightplanet.blogspot.com/