Et voici une des trouvailles culinaires que nous avons faites avec mon père lorsque nous sommes descendus dans le sud, le mois dernier au marché au poisson de Valdivia.
Ce sont des fruits de mer séchés et fumés, sur une ficelle.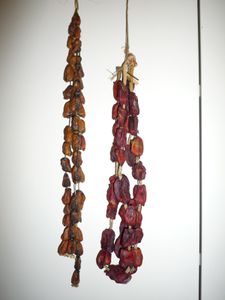 Le Chili regorge de fruits de mer que nous ne connaissons pas. Certains ont des tailles gigantissimes, que meme en fan de fruits de mer… je n'ai pas trop envie de manger a vrai dire. Une des specialités chilienne, c'est de les faire au BBQ les fruits de mer. Mais on n' a encore jamais essayé. (Je suppose que tout peut aller sur le BBQ ici au Chili vu que c0est presque comme un sport national ici).
Sur l'une des ficelles ( a gauche sur la photo), ce sont des petites moules, appelées choritos (parce qu'on trouve aussi au Chili des ENORMISSIMES moules qu'on appelle Cholgas).
Sur l'autre ficelle, ce sont des Piure, typique d'ici, jamais encore vu. Ca ressemble a des petites bourses orange.
On n'a pas gouté... mon pere est reparti en France avec... dans ses bagages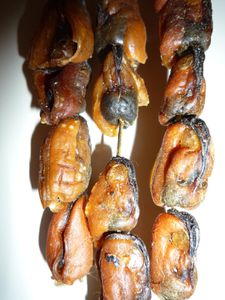 Here is one of our last culinary discoveries, made with my father last month in the South, while walking through the fish market in Valdivia.
They are seefood, hanged smoked and dried.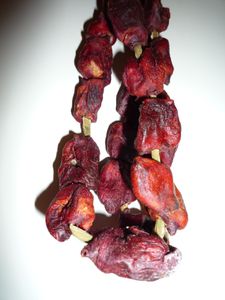 Chili is full of different seefood that we don't know. Some of them have a gigantic size, and even I, who is really fanatic of seefood, am not very keen on trying some of them for their size.
One of the Chilean specialty is to cook seefood at the BBQ. But we havn't tried yet. (I guess everything can go to the BBQ here in Chile for BBQ looks like a national sport here!)
On one of the pictures, are small mussels, called choritos (because you also find really GIGANTIC mussels called cholgas).
On the other picture, there are Piure, typical from here, never seen before. They look like small orange purses.


Did not try any.... my father left with them in his luggage back to France...