Cobquecura, encore et encore, again and again...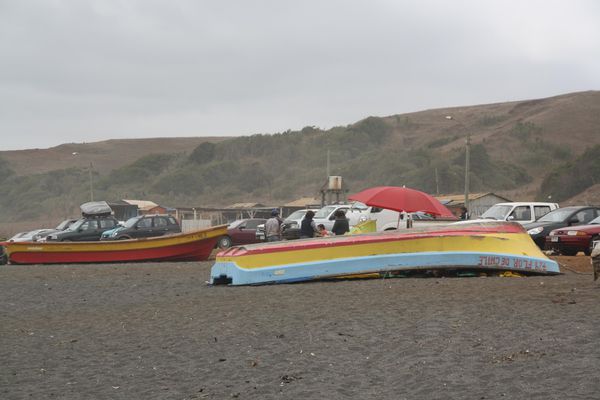 Hier, pour l'anniversaire d'un ami, nous sommes retournés a la mer, a Cobquecura, pour la premiere fois depuis le tremblement de terre de l'année derniere, dont Cobquecura fut l'épicentre.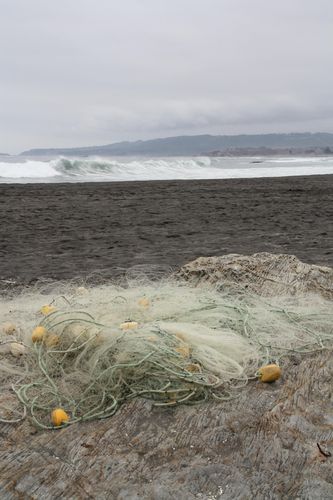 Ca a réveillé beaucoup de souvenirs, beaucoup de maisons sont encore bien bien détruites et on en voit des dizaines qui sont brillantes par leur aspect tout neuf de maison récemment (re-)construite…
Et puis de voir cette mer qui est si belle mais qui a été si imprévisible et dangereuse l'année derniere fait un effet assez bizarre en fait.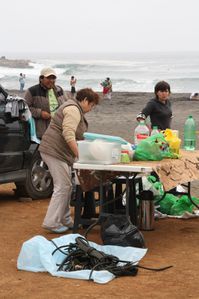 On s'est mélangé aux chiliens, de retour pour une de leurs activités favorites : aller manger fruits de mer et crabes récemment pechés sur la cote, quitte meme a y passer la nuit en campant. (on s'est quand meme demandé comment ils pouvaient faire ca, sachant le nombre de fois que la terre a tremblé encore fort ces derniers mois…)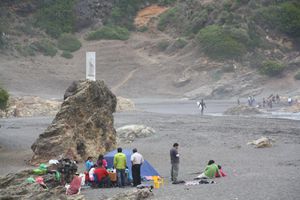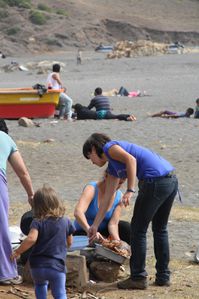 Personnes qui campent ou cuisent leurs crabes a meme la plage. People camping or cooking their recently bought crabs right on the beach.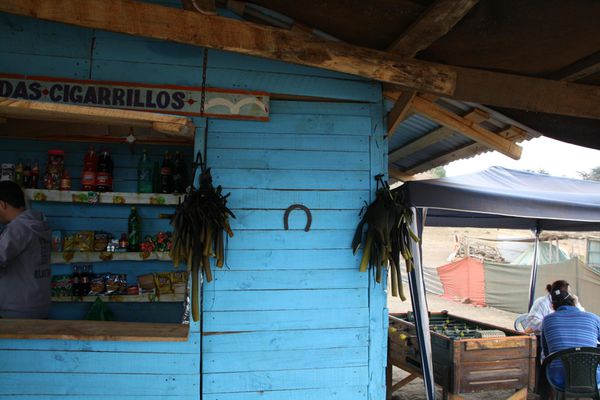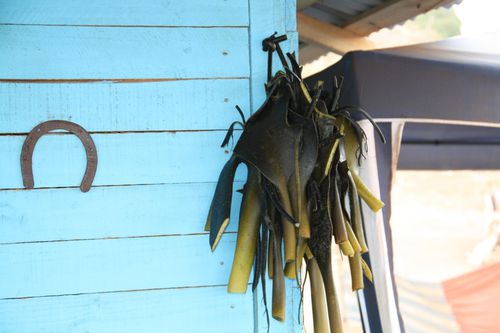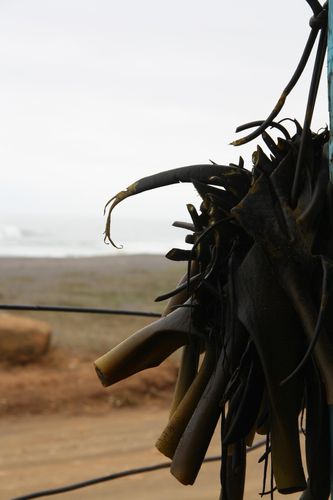 (Urte, la partie haute de l'algue la plus consommée au Chili, mais c'est sa partie basse, la plus consommée, est le fameux cochayuyo.
Urte, the upper part of one of the most eaten seaweed in Chili, but it is thetlower part of this seaweed that is the most eaten, the famous cochayuyo.)
Yesterday, to celebrate a friend's birthday, we went to the sea, back to Cobquecura, for the first time since last year's earthquake, in which Cobquecura was the epicentrum.
It awoke many memories from last year's event, many houses are still well destroyed and we can see many others shining from their aspect of freshly (re-)built homes.
And to see this sea, who is so beautiful yet who has been so powerful and dangerous last year ave us a very strange feeling.
We went amonsgt the chileans, back to one of their favorite activity: go to the coast to eat seafood and crabs freshly fished, some even camping overnight to enjoy it even more. (we wondered how they can still do that knowing how frequently and strongly the earth is still shaking these lasts months…)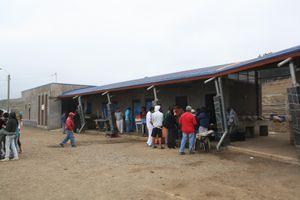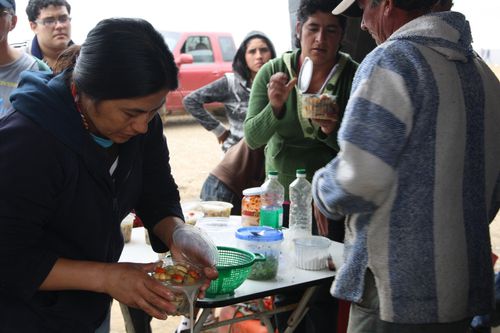 (Bicoque ou on vend du "mariscal frio", mélange de différents fruits de mer typiques, qui se mange froid "a la chilienne", c'est a dire, dans un peu de jus de cuisson, avec de l'oignon, du sel, du citron, de la coriandre fraiche et un peu d'huile.
Small shop where you can buy "mariscal frio", a mix of typical chilean seafood, that you eat cold the "chilean way" which means inside the cooking water, with onions, salt, lemon and fresh cilantro, and a little oil. )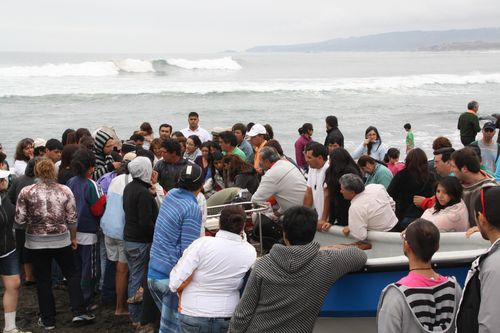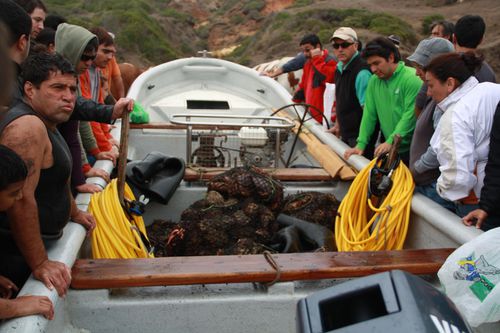 Un bateau plein de crabes, de fruits de mer (piures, cholgas -moules énormes typiques d'ici-) et de poissons.
A boat full of crabs, seafood (piure, cholgas - huge mussels typical from here-) and fishs.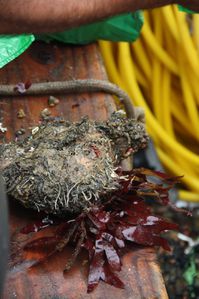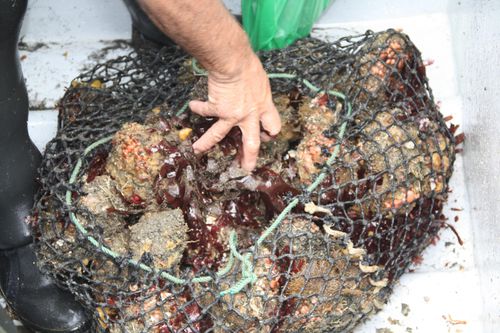 Les "Piure", mollusques tres iodés typiques d'ici, parmi les fruits de mer les plus courants au Chili.
"Piure", typical seafood from here, amongst the most common in Chile.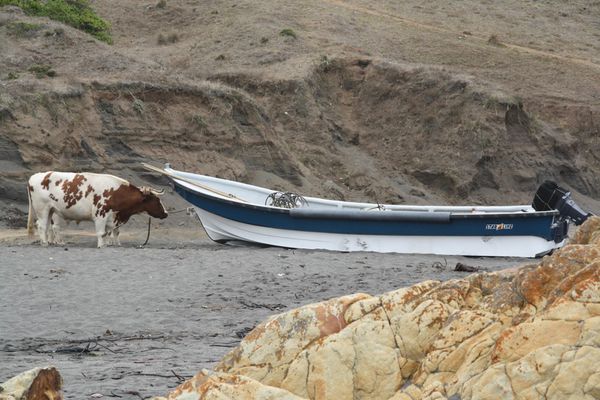 Je ne sais pas si c'est la spécialité de d'autres communes, mais a Cobquecura les pecheurs sont connus pour utiliser des bœufs pour pouvoir sortir leur bateau de la mer, tres agitée et dont les courants sont tres puissants. Elle est si puissantes que c'est un des high spots pour les surfeurs d'ailleurs. On a trouvé ces boeufs tres beaux a voir.
I don't know if it is common in other villages as well, but in Cobquecura, they are famous for the use they do of oxes to help the fishing boat get out of the sea, which is very wild at this place and has a lot of strong currents in this place. It is so strong that it is one of the high spots for surfers actually.
We found the image of these oxes very beautiful.