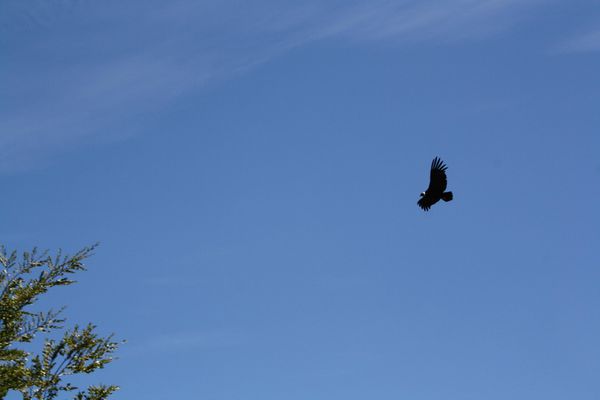 Thom est allé dans la Vallée d'Atacalco hier, et y a trouvé un nid de condors.
En fait, meme si c'est tres bas en termes d'altitude, vu qu'on les voit normalement a des hauteurs bien plus élevées, la Vallée a cet endroit forme une falaise tres haute qui donne sur le fleuve Diguillin et c'est donc un bon abri pour les condors.
Pas facile de les prendre en photo cependant ces oiseaux de merveilleuse augure, sacrés parmi les sacrés…. mais bon …
Thomas went to the Atacalco Valley yesterday and there was a Condors' nest.
Eventhough it is not so high in terms of altitude, as we normally see them at much higher heights, the Valley, at this place, has a big cliff edge that offers a good protected place for Condors who also have the river Diguillin just down the cliff.
Not so easy to take it into picture though this great-good-fortune bird, sacred amongst the sacred… but yet….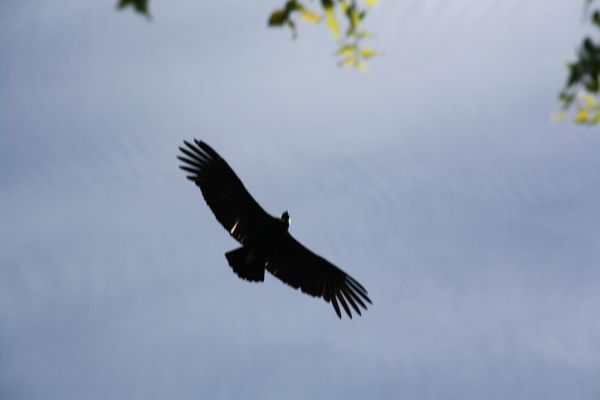 J'ai vraiment bien aimée celle-la meme si elle est floue parce que je trouve qu'on y voit toute l'énergie qui se degage de la lumiere du soleil et se mélange a celle de l'oiseau.
I really liked this one although I know it is blurred, but I thought it was easy to see the energy of the Sun merging with the one coming out of the bird.