Ca s'appelle « Durazno-Platano » … (« Peche-Banane »)
- On ne sait pas pourquoi… (mais pour ceux qui parlent espagnol il y a des hypotheses qu'on a trouvées tres droles sur ce blog: http://marcelilla.blogspot.com/2006/03/preguntas-de-actualidadnacional-o.html)
- On n'en avait jamais mangé avant d'etre ici au Chili
- Ca a un gout assez mélangé de peche et de miel (et oui, mais ou est donc la banane ?) et on trouve ca super bon
- Ca sent et ca goute le Chili et le soleil et quand elles arrivent sur le marché, on sait que l'été est la pour sur !
- Ce n'est certainement pas mere-nature qui l'a produite elle-meme… mais c'est si bon que tant pis, on dit merci a la genetique agricole pour ce coup la quand meme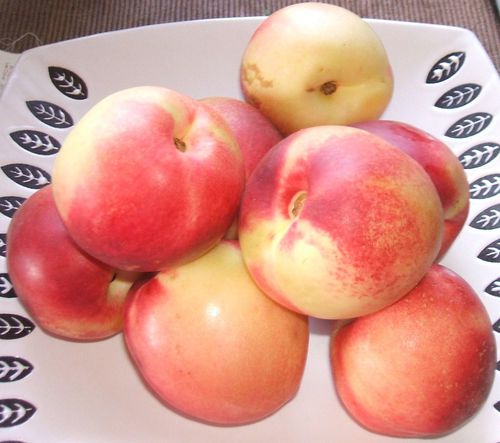 It is called « Durazno-Platano » … ("Peach-Banana")
- We don't know why… (but for those of you who speak spanish, there are hypothesis on this blog that we've found really funny: http://marcelilla.blogspot.com/2006/03/preguntas-de-actualidadnacional-o.html )
-We had never eaten this before being in Chili
- It has a taste of peach and honey (I know, where is the banana then?), and we think it is really delicious
- It has the taste and smell of Chili and when they arrive on the market, we know summer has arrived!
- It is certainly not mother nature who produced this type of peach by herself, … but it is so good that we'll keep it anyway, and we'll have to say thank you to the agro-genetics on this one.