Ici, dans notre campo, on mange beaucoup de Sarriette (Satureja Hortensis). Je ne sais pas pour le reste des autres regions du pays par contre. Mais je crois que c'est assez généralisé dans les régions du sud du Chili.
On appelle ca ici le Chascu ou Chascudo.
Les gens ne savent pas par contre que c'est de la Sarriette et pensent que c'est du Thym et l'appellent aussi facilement Tomillo (Thym) quand ils n'utilisent pas son nom vernaculaire, Chascu. Ils ne connaissent d'ailleurs pas le Thym véritable quand on leur montre celui que l'on cultive dans notre jardin. Probablement qu'il ne pousse pas naturellement ici.
Et en fait, bien qu'ils consomment la Sarriette, ils n'en connaissent que tres peu les vertues médicinales. Pourtant c'est un véritable médicament !
Elle est beaucoup cultivée et vendue dans les stands de vendeurs de legumes qui pululent le long de la route vers les Thermes, au moment de l'eté.
Ici, on nous l'a beaucoup servie dans la soupe et elle accompagne très souvent le plat typique de « Porotos granados », que les gens font en été, car c'est a cette période que les légumes qui le composent (comme le mais) se vendent sur les marchés. Et comme tout fonctionne avec les saisons ici….. !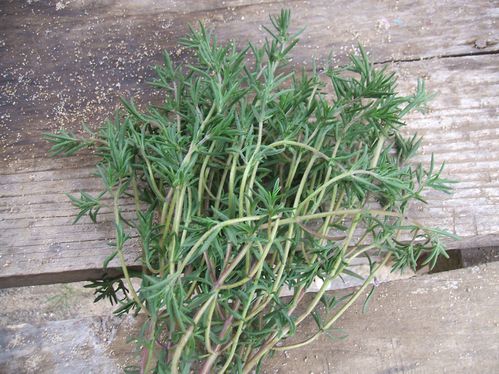 In our campo, people often eat the aromatical herb Summer Savory (Satureja Hortensis). I cannot speak for the rest of the country though, but I thing that it is the case for all southern regions of Chile.
We call it here Chascu, or Chascudo.
People here do not know actually that it is Summer Savory and think that it is Thyme. They also often call it TomilloChascu. (Thyme) when not using its vernacular name,
And most of them have never seen the real Thyme and are surprised when we show it to them. Probably because it does not grow here naturally.
And eventhough they eat Summer Savory, very few know its medicinal virtues. It is a real medicine though!
It is very much cultivated and sold along the road to the Termas de Chillán in summer, when little fruits and vegetables shops proliferate on the way.
We found it on the table to accompagny the soup, and it is often served with the typical meal "Porotos granados" that people in the countryside prepare in summer because it is then at this time that you'll find most of the ingredients sold on the market (like corn). And as everything works woth the seasons here…..!