Fiestas Patrias2010 Le défilé - The parade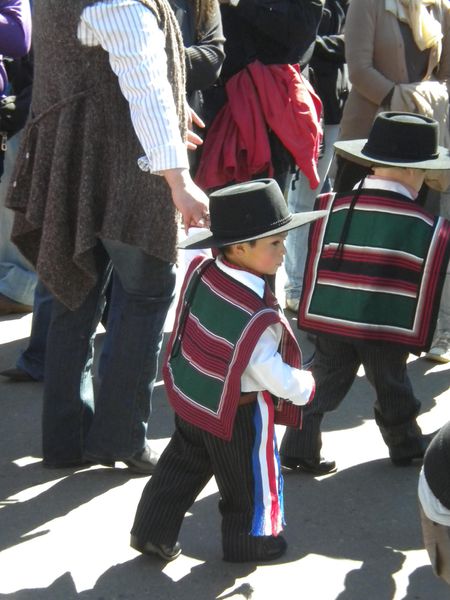 Voici quelques images du défilé de notre commune, qui a eu lieu pour les Fetes Nationales vendredi de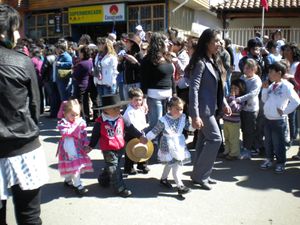 rnier.
Ici, mais c'est vrai pour tout le continent vu l'experience qu'on a eue au Pérou, on aime beaucoup les défilés.
Et la, pour la Fete Nationale, c'est tout le monde qui défile. Les écoles, les gendarmes, les pompiers, les associations de la commune, le département d'education de la commune, la fanfare des écoles, le club de rodéo chilien (sport national - différent du rodéo américain), etc etc.
Mais bon, si vous demandez a Elhaia ce qu'elle a retenu du défilé, elle vous dira que « ca fait beaucoup de bruit ! », au point meme d'en oublier qu'elle a eu droit aussi a un enorme cornet de frites plein de sauce !
Pour vous dire.
Here are a few pictures of the National Day's parade, last Friday.
Here, but it is true for the whole continent seeing the experience we had in Peru, they like street parades.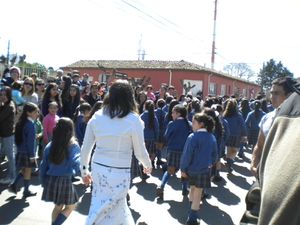 And here, for the National Day, it is everyone who walks in procession: the schools, the police, the associations of the region, the Education department, the school band, the chilean rodeo club (national sport – different from the american style though), etc etc….
But yet, if you ask Elhaia what she remembers of this day, she'll tell you that "it's a lot of noise!"…. to the point that it seems she has even forgotten the big plate of french fries in mustard she's been eating as well!
It says it all!