Il était une fois une pleine lune…. / Once upon a time… a fullmoon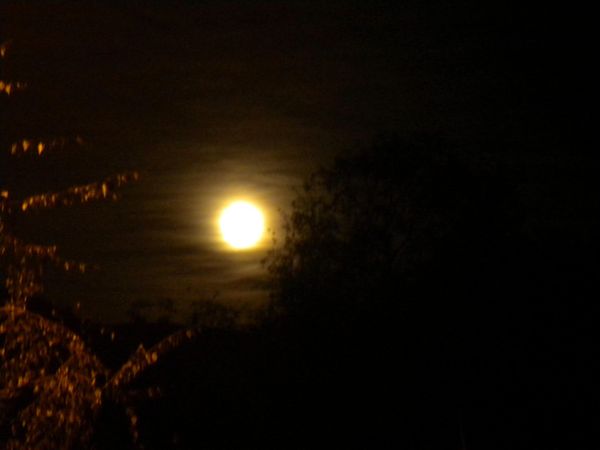 La pleine lune d'hier, 30mars2010 - Yesterday's full moon, 30th of march2010

Bien que l'anniversaire de commémoration du tremblement de terre ait eu lieu vendredi dernier, le 27 mars, pour nous, c'est hier qu'il a vraiment eu lieu, avec la nouvelle pleine lune de mars.
La nuit du tremblement de terre, le 27fevrier dernier, la lune était pleine. Et le souvenir de cette lune ENORMISSIME, GIGANTESQUE, brillante comme un spot juste au dessus de notre maison (car a 4h du matin, c'est juste au dessus de notre maison qu'on la regardait), tandis que celle-ci tremblait de facon maladive, me restera dans la tete aussi longtemps que je n'aurais rien vécu d'aussi fort pour la remplacer.
En astronomie, la lune peut se retrouver dans une position spéciale dite « périgée »,c'est-à-dire au point le plus proche possible de la Terre.
En astrologie, il existe le terme de « superlunes » (d'apres le travail d'un des grands astrologues/astronomes de ces denieres années - @Richard Nolle -), qu'il définit comme « a perigee-syzygy, a new or full moon (syzygy)which occurs when the Moon is at 90% or greater of its mean
closest approach to Earth (perigee)" en plus du fait d'etre en alignement total sur la soleil et la terre.
Ces lunes ont un pouvoir magnétique énorme qui peut s'exercer directement sur les Elementaux (l'eau, la terre, le feu et le vent) ! On dit qu'il y en a environ 5 par an.
Ce fut le cas pour cette pleine lune du 27 février, deuxieme « superlune » de l'année apres celle du 30 janvier, qui était pourtant considérée comme plus puissante.
Dans sa prévision pour le mois de février 2010, @Richard Nolle justement en avait parlé, en disant qu'il nous faudrait probablement, pour ces dates, prévoir des piles neuves et des bouteilles d'eau pour la fin février…. Quelle ironie n'est ce pas ?
Alors c'est la pleine lune qui pour moi marquera aujourd'hui mon souvenir du tremblememt de terre. Avec beaucoup d'amour et de gratitude envers elle, aussi, car bien que l'astronomie nous montre que son pouvoir magnétique n'ait pas été innocent dans ce qui s'est passé, elle restera pour moi aussi celle qui nous a permis de sortir de notre maison si vite en trouvant notre chemin si facilement au milieu du verre brisé, tandis que la rue était soudain dans le noir a cause des secousses.
Aurais-je su sortir de ma maison sans la lumiere intense de cette pleine lune gigantesque ? Aurait-on trouvé les couvertures et les habits chauds pour se couvrir au milieu du désastre laissé par les secousses si la lune n'avait pas été la pour nous éclairer a l'intérieur de la maison, une fois le « big one » passé ?
Mais nous ne sommes pas les seuls a nous souvenir de cette lune.
A chaque personne a qui l'on parle dans le village, c'est pareil, chacun se souvient de la lune, pleine et de la lumiere énorme qu'elle diffusait. Comme si c'était la seule manière pour nous d'expliquer le pouvoir magnétique qu'elle diffusait alors ce soir la.
Ce n'est pas un hasard alors non plus si hier, chacun dans le village mentionnait la nouvelle pleine lune, en se demandant si cette fois ci encore, elle allait nous refaire sortir de nos maisons. Il faisait en plus si chaud dans la journée, une chaleur non-habituelle, que tous se demandaient s'il n'allait pas encore trembler cette nuit. Mais non. Cette pleine lune de mars fut belle, lumineuse, mais n'exigea pas de nous que nous sortions dehors en pleine nuit. C'est gai aussi quand ca se passe comme ca. Beaucoup plus reposant.
PS : que vous soyiez ou non feru (ou « convaincu ») par l'astrologie, ca vaut le coup de regarder les prévisions collectives de cette année 2010, quelle que soit la source, car quasi tous concordent a dire que nous aurons cette année des conjonctures planétaires tellement puissantes, certaines historiques car extremement rares , qu'elles ne vont pas beaucoup nous laisser de repos, particulierement pour les mois de juin et juillet 2010… oú il semblerait que l'influence du jeu des planetes pourrait avoir des répercussions impressionnantes sur notre jolie planete et les Elementaux.
PS2: Pour les plus passionnés, je vous laisse l'adresse de la page des prévisions de Richard Nolle, pour l'année 2010.
http://www.astropro.com/homeNS45.html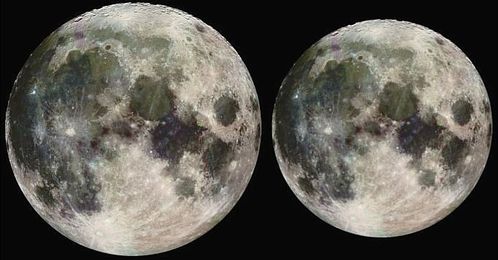 Lune en "perigee" a gauche/Moon on "perigee" on the left - Lune en apogée a droite/Lune on apogee on the right
(Source:http://www.astromia.com/fotostierra/lunaperigeoapogeo.htm)
Although the « anniversary » of the earthquake arrived technically on the last Friday 27th of march, it was only yesterday night that it got sense for us, with the new full moon of march.
On the night of the earthquake, last 27th of feb, the moon was full. And the memory of the GIGANTIC, ENORMOUS full moon, shining as a spot of light above our house (for at 4am, you could see it just above our house), while this one was actually dancing like crazy, will stay in my head as long as something as strong will not come to replace it.
In astronomy, the full moon can be on a very special position called « perigee », which means that she is on her closest position to the earth.
In astrology, it can also be called "supermoon" (according to the work of a very famous astrologist/astronomist - @Richard Nolle -), which defines it « a perigee-syzygy, a new or full moon (syzygy)which occurs when the Moon is at 90% or greater of its mean closest approach to Earth (perigee)", and that is in perfect alignment with the sun and moon.
These moons have a very special magnetic power that can really directly influence the Elementals (the earth, the fire, the water, the air) ! We say that there are around 5 a year.
It was the case for the full moon or the 27th of feb, second « supermoon » of the year, after the one of the 30th of january, also « supermoon », and considered to be at its extreme point.
In his forecast of february 2010, @Richard Nolle talked about it actually, saying that we would certainly need "fresh batteries and bottles water" for the end of the month…. SO ironical isn't it?
So it is the full moon that will really stay in my head as a remembrance of the earthquake of the past month. With much love also and gratitude towards her, because, though the astrology shows that she was not all innocent in what has happened, she is also the one thanks to whom we had enough light to run out so fast of the house, to avoid the broken glass on the floor and to find so fast the exit door, while the street was in total darkness because of the tremors.
Would I have been able to run so fast out of my house without this beautiful full moon ?
Would we have found the blankets and warm clothes so fast in the house, in the middle of the mess left by the shakes if not for the light of the super big full moon, once the "big one shake" had passed?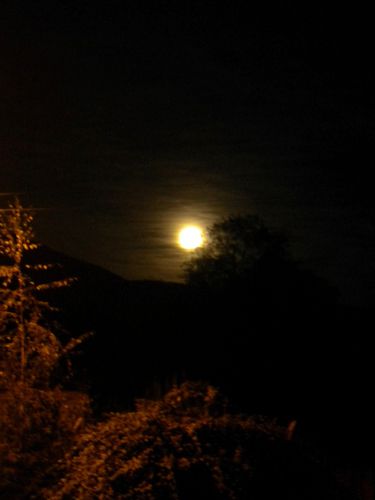 But we are not the only ones to have the memory of this moon.
In fact, each person we spoke to in the village remembers this full moon, so big and so bright. It is as if it was the only way for us to put words on its magnetic power felt this night.
This is not a coincidence either if yesterday, many in the village was speaking about the new fullmoon of march, happening yesterday night, asking if this time again, we would have to run out of our house. The weather was also so hot, anormally hot, that many thoight it would shake again. But it did not.
This last fullmoon was beautiful, shining, but did not ask us to go out in the middle of the night to escape new earthshakings.
It is nice also this way. Much more resting actually.
(yesterday'sfullmoon - pleine lune d'hier)
PS : wether you be or not fascinated (or convinced) by astrology, it would be interesting for you to check the collective forecascts for 2010, whatever their source I think, for so many are saying that this year 2010 is a "big year" due to the very powerful planetary conjonctures happening this year, some being "historical", that may not let us rest so much, especially during the months of june and july 2010. It seems that at this moment, the play of the planets could have powerful influence on our lovely planet and the Elementals.
PS2 : for the most apassionated, I leave the link of the 2010 planets forecast of Richard Nolle:
http://www.astropro.com/homeNS45.html