La cote Pacifique - The Pacific coast
C'est vrai que nous sommes beaucoup plus des fanatiques de montagnes, rios et cascades que de la mer. Alors le blog ne montrait jusqu'alors pas beaucoup de photos de la cote. Mais nous voici maintenant avec un album photo disponible des quelques plus belles photos de la cote pacifique que nous avons, prises au fur et a mesure de nos peregrinations. Elle est tellement belle cette cote, quel que soit l endroit ou l on est, que ce ne fut pas facile. Mais bon.
Sur cette -immense en longueur et toute courte en largeur - languette de terre qu'est le Chili, le bonheur c'est de pouvoir passer si vite des montagnes et volcans a l'Océan. Pour nous, c'est presque un rituel. Apres plusieurs jours passés dans les montagnes a randonner, on a toujours envie d'aller voir l'océan.
Pour tout dire, dans nos impressions, la cote chilienne, c'est du vent, de l'aridité, une folle lumiere et des km d'espaces sauvages.
Meme si nous avons des photos de ports de peche, on en a vu peu en realité dans tous les endroits que nous avons pu visiter.
La cote chilienne, …. c'est aussi pour nous une mer bien bien froide et bien dangereuse et c'est un peu frustrant quand meme pour un europeen habitué a se baigner si facilement dans l'eau salée, (meme si les Chiliens s'y baignent quand meme). Mais bon, contrairement a nous qui l'avons sur la cote, les chiliens, eux, ont leur eau chaude pres des volcans, dans toutes les sources naturelles d'eau thermale…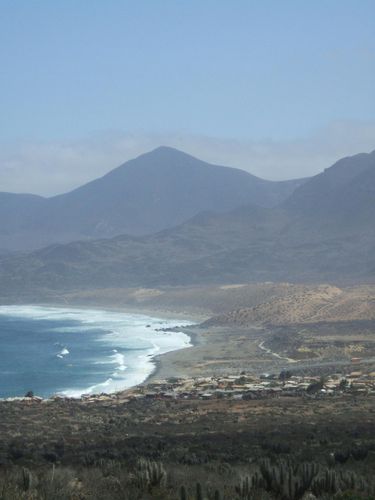 It is true that we are more fanatical of mountains, rivers and falls than of the sea. So this blog was not yet showing any pictures of the coast. But here we are now with a foto album available of some of our most beautiful pictures of the pacific coast that we have taken on our peregrinations.
This coast is so beautiful, wherever we are, that it was not so easy to choose the pictures. But yet we did it!
On this – vast in length and so short in breadth – little piece of land that is Chili, the pleasure is to be able to go so easily from mountains and volcanoes to the Ocean. For us, it has almost become a ritual. After several days hiking in the mountains, we always need at one point to go and see the Ocean.
To sumer it, from our impressions, the chilean coast is: powerful wind, aridity, a shining light and kms of tremendous wilderness.
Eventhough we have some pictures of small harbours, we have in reality not seen so many during our trips.
The chilean coast is also, to us, a cold cold and dangerous sea, and it is kind of frustrating for europeans like us not to be able to go so easily in the salted water (eventhough here they go and swim in it). But, let's say that we have the warm water on the coast and they, have it inland near the volcanoes, with all the natural hotsprings…