Laguna del Huemul 2/- Camino de las Cabalgatas por Shangrila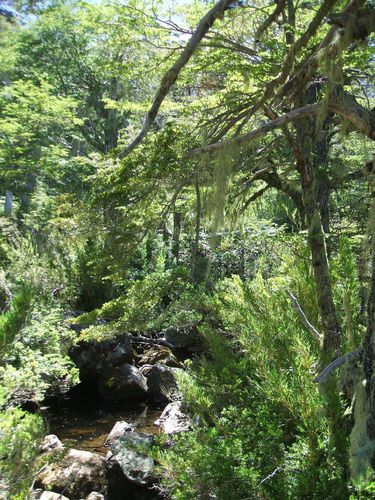 Le lendemain, nous sommes retournés a cette lagune, car elle était si belle que nous voulions y rester la journée. Ceci dit, il y a moyen d'y camper quelques jours, beaucoup de gens le font et je pense que l'experience doit etre absolument incroyable.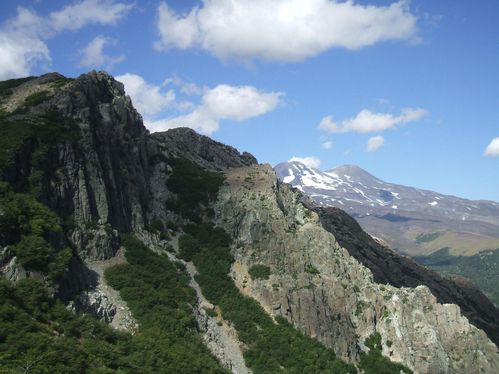 Ce deuxieme jour nous avons pris cependant un autre chemin, celui des cabalgatas, c'est-à-dire des randonnées a cheval, qui part par un aute coté de la montagne.
Le chemin était extremement long et fatiguant, mais je crois que jamais, que ce soit Thom ou moi, n'avons fait de randonnées aussi sublime. Ce matin, on se disait que de tous les lieux que nous avons vus au Chili et de toutes les randonnées que nous avons faites depuis un peu plus de 2 ans, ce fut la plus somptueuse.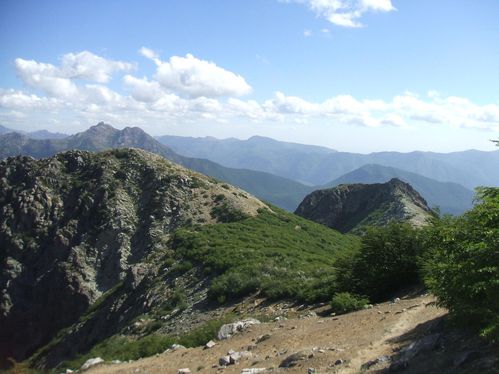 A plus de 2000m d'altitude, elle nous fait longer la crete de plusieurs montagnes, decouvrir deux vallées en meme temps, parcourir des lieux impossibles a voir depuis le bas de la vallée, sentir des lieux magiques oú les roches semblent former des visages des gardiens des lieux. Ce matin, nous avons la sensation d'avoir volé comme des aigles (… ou des condors …) au dessus de lieux magiques et l'émotion est encore tres tres vive.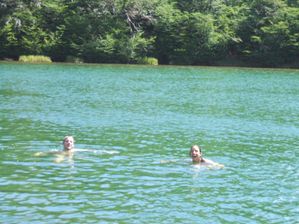 Lorsque nous sommes arrivés a la lagune, et que Thom et Amandine s'y sont baignés, un condor est sorti de la roche et nous a survolés juste au-dessus pendant un certain temps, puis est reparti. Une bénédiction totale.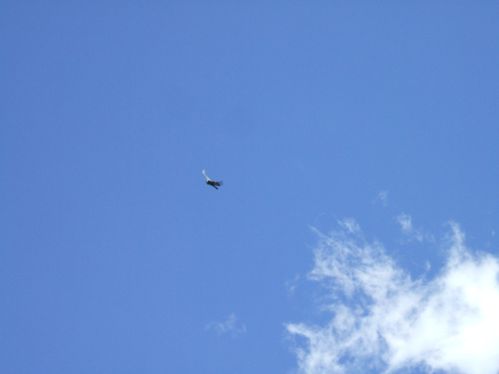 The next day, we decided to go back to the laguna, to spend the day up there, for it was just so awesome. There are actually people who go camping there, and I thing the experience can be amazing.
This second day, we took another trail, the one for the cabalgatas, which means the horse riding trail, wich leaves from the other side of the mountain.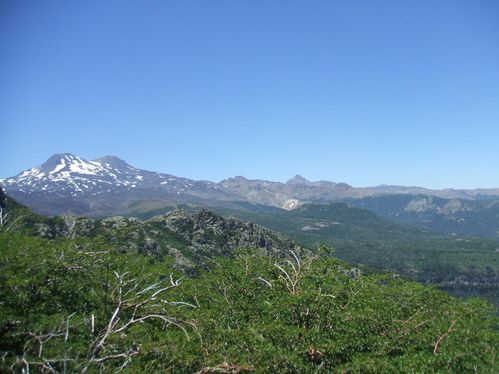 The walk was really really long and tiring, but I think that never, neither Thom or I, have made such a beautiful and spectacular hike. This morning, we were agreeing about the fact that among all the hikes we made in Chile, for a bit more than 2 years now, this one was the most sublime.
At more than 2000m of altitude, you walk along the crest of several mountains, scan 2 valleys at the same time, discover places hidden from down the valley, sense magical sites where the rocks seem to represent faces of the sites' guardians.
This morning, we had the sensation to have flown like eagles (… or condors…) over magical places and the emotion is still very strong.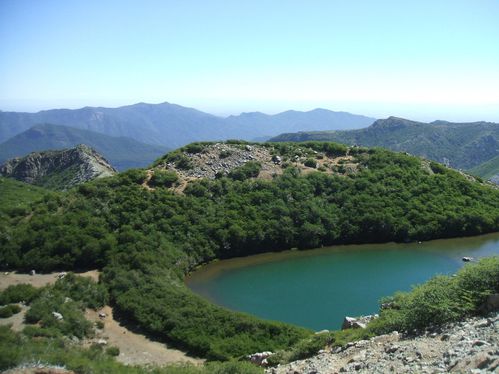 When we arrived at the Laguna, and while Thom and Amandine, his sister were swimming in, a condor went out from the rock and began to fly slowly and long above us for quite a while, before going back to his rock. Such a blessing.