Le passeport guagua - The guagua passport
Comme le dit si bien le LonelyPlanet sur le Chili, les Chiliens adooooooorent les enfants ! Mais c'est vrai dans tout le continent je crois, du moins c'est l experience qu'on en a faite au Pérou oú les femmes me touchaient le ventre dans la rue puis se touchaient le front comme si elles recevaient une bénédiction, ou bien en Argentine, oú Elhaia se faisait offrir un bonbon dans quasi chaque station service oú l'on s'arretait sur le chemin de Buenos Aires (et il y en avait sur 4000km allerretour). Une amie chilienne me disait qu'elle avait eu ca ici aussi a Chillán et je pense que c'est pareil dans les autres pays que nous n'avons pas encore visités.
Mais comme l'experience qu'on connait le mieux est celle du Chili, c'est de celle-ci dont on peut vraiment parler.
Au Chili, tout petit enfant est une « guagua » (prononcer huahua- ca provient probablement du mapuche). Et la guagua, c'est ce qu'il y a de plus sacré ! Oubliez les regards un peu durs auxquels ont est habitués en Europe sur les enfants qui font du bruits dans un resto … la peur qu'ils vont gener les autres… le fait qu'il ne peut pas courir partout… Ici, c'est le contraire. Bien sur, un enfant doit apprendre a etre tranquille dans le discours. Mais dans les faits, la guagua, elle peut faire (quasi) tout ce qu'elle veut (experiences vecues): aller dans les cuisines du resto si bon lui semble, se promener dans les bureaux de la banque, se retrouver derriere les comptoirs de la poste ou des magasins. Rarement les gens vous diront quelque chose, tout simplement parce qu'on adore ca.
Bon c'est vrai qu'Elhaia est plutôt du genre a aller explorer les moindres recoins de chaque endroit oú elle se trouve et donc c'est vrai qu'on l'a déjà retrouvée dans bien des situations. Combien de fois n'a-t-on pas vu un serveur dans un resto se charger d'elle (parfois en la portant dans ses bras) pour nous permettre de manger tranquilles… parfois meme a ne plus savoir oú elle est. Quand elle était petite, il nous est arrivé de « deviner » oú elle était, simplement en entendant les cris et gagatements en provenance de la cuisine du resto. Ca y va généralement du « hola guagua » a « mira la guagua » (regarde la guagua), « que cosita mas linda » (quelle jolie petite chose), « hola preciosa » etc.
C'est un peu ce qu'on appelle le passeport guagua. Car voyager avec un bébé ici au Chili n'est vraiment pas compliqué. Non seulement le pays est super moderne et donc ne pose aucun probleme niveau hygiene ou routes (sauf si vous allez dans des coins reculés et alors la il vaut mieux attendre que le bébé ait passé 6 mois parce que ca secoue fort). Mais en plus, avoir une guagua vous ouvre des portes. On vous laisse la place dans le bus, on vous fait passer devant. Si vous arrivez a la banque avec une guagua dans les bras, le gardien vient vous voir pour vous eviter de faire la queue, pareil pour quasi tous les endroits oú il ya a faire la queue d ailleurs. Si vous restez debout dans le bus, pas de soucis, la personne a coté se fera un plaisir de prendre la guagua dans ses bras pour le chemin. Il m'est arrivé un jour que dans le bus, ma voisine me prenne Elhaia des bras quasi sans me demander et la fasse dormir dans ses bras. Comme ca. "Pour me soulager".
Les procédures sont toujours beaucoup plus rapides et faciles avec une guagua !
L'autre jour, nous sommes allés a la ReservaÑuble, et entre le champs des proprietaires chez qui passe le chemin et la Reserva il y a 8 km. La dame devait aller voter, et donc nous refusait l'acces catégoriquement, comme elle l'avait fait avec tant d'autres, et pas moyen de négocier.
Nous n'avions plus qu'a marcher les 8km pour aller jusqu'à la Reserve. Mais alors qu'on se préparait, elle a vu Elhaia. Et tout a changé. « Je n'avais pas vu que vous aviez une guagua, pauvre petite chose, on ne va pas la faire marcher tant de km comme ca dans la chaleur. Je vais vour ouvrir et m'arranger pour que quelqu'un soit la quand vous revenez le soir pour vous ouvrir la barriere. » Le passeport guagua!!!
Ici, quand quelqu'un s'extasie devant une guagua (c'est un pleonasme), on entend tout de suite derriere « Que dios la bendiga ! » Que Dieu la bénisse… pour surtout bien montrer que l'on ne lui veut pas de mal et que l'on ne commettra pas de magie dessus. C'est comme ca. C'est culturel. Et ca ne loupe pas. On entend ca partout. A chaque fois.
Le grand truc des chiliens aussi, c'est le fait de gater, « regalonear ». C'est leur grande obsession. Mais réellement. En résumé ca donne : « il ne faut pas trop gater son enfant/petit enfant mais qu'est ce que je l'aime je peux pas m'en empecher ». Donc a chacun de dire que tel petit enfant est « regalon » (le favori, le gaté) ou qu'il ne faut pas trop « regalonear » (gater) avec un air de « c'est pas bien » et de « oui mais c'est tellement gai on peut pas s'en empecher ». Si une guagua fait un caprice, c'est parce qu'elle est « regalona » (toujours avec ce melange de "c'est pas bien mais on comprend bien parce que y'a de quoi !") Et l'autre jour chez le pediatre, j'entends la secretaire demander a une grand mere si son petit fils était son « regalon… » et la grand mere de dire un petit « oui » discret, quasi s'excuser comme si elle avait été prise en flagrant delit de faiblesse d'amour.
Le passeport guagua au Chili, c'est tout ca et plus encore. Et c'est vraiment chouette.
Ps : promis on n'a pas ecrit ca pour TOUS nos amis qui viennent juste d'avoir un bébé et qu'on adorerait voir venir nous visiter.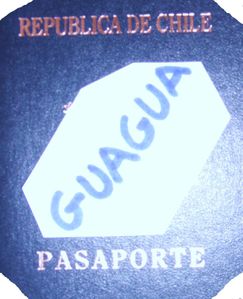 Like the LonelyPlanet on Chili says it so well, Chileans looooooooove children !
But it is true on the whole continent I think, at least from the experience we had in Peru when women would touch my pregnant stomach and then touch their forhead as if it was a blessing, or in Argentina where Elhaia would receive a candy everytime we had to stop at a gas station on our way to Buenos Aires (and there were plenty over a 4000km trip). A chilean friend told me that she experienced this in Chillán also. I thing it would be the same in the other latino countries we havn't yet visited.
But as the experience we know the best is the one in Chili, it is the one we can really speak about.
In Chili, a little child is called a « guagua » (say it huahua- think it comes from the Mapuche). And the guagua is of the most sacred thing! Forget about the judgmental glances we are accustomed to in Europe on noisy children in a restaurant…. the fear that they might bother the others… the fact that they cannot run everywhere and that they must be nice and calm. Here is all the contrary. Of course a child must learn to be still and calm on the facts, but yet on the reality the "guagua" can do (almost) all that she wants (lived experiences) : visit the kitchen of the restaurant if she feels like it, wander in the offices at the bank, walk behind the counter at the post office or in shops. Very seldom will people tell you something, just because they love that.
Well, it is true that our daughter Elhaia is more of the kind "to go and explore" every space of the place she finds herself in, and so we have found her in strange situations. How many times have we not seen her with a waiter (sometimes in his arms) babysitting her to offer us the chance to eat quietly and enjoy the meal, sometimes not knowing where she actually is. When she was really little, we "guessed" sometimes that she was in the kitchen when hearing "baby talks" coming out of the cooking team. It generally goes from "« hola guagua » to « mira la guagua » (look at the guagua), « que cosita mas linda » (what a lovely little thing), « hola preciosa » etc.
This is what we call "the guagua passport" for travelling in Chili with a baby is really easy. The country is very modern and does not present any problem of hygiene or road (unless you want to go to remote places and so it is better to wait that your child is at least 6months because it really can be shaky). Moreover, having a guagua here can open you many doors. You get a seat in the bus, they let you pass at the front if you have to wait in line… If you are at the bank for eg., the securityguard will come and see you to tell you to go upfront and pass the line. It happens actually in many places where you're supposed to wait.
If you happen to be standing in the bus, no problem, one of the person seated next to you will often offer you to take the guagua in her arms. It happened to me once that the woman I was seated next to in the bus, took Elhaia from me (almost without asking) and made her sleep in her arms for the time of the travel. Just like that. "To give me relief".
So procedures are always faster and easier with a guagua.
The other day, we went to the ReservaÑuble, and between the owner's field in which the road passes and the actual Reserva, there are 8 km. The woman had to go voting and so was refusing to let us go with our car, as she had done it to many others. No possibility to negociate…
We were prepared to walk the 8km to the Reserve. But while we were getting prepared, the owner saw Elhaia. And then everything changed. "I'd not seen that you had a guagua. Poor litlle thing, we can not let her walk so many kms in the heat like that. I'll open for you and let you pass and I'll find someone to be at my house to let you go in the evening." And so we went. The guagua passport!
Here, when someone is admiring a guagua (this is a pleonasm), you will directly hear then « Que dios la bendiga ! » God bless her… to show especially that you do not want any harm and that you will not do magic on her. This is at it is. It's cultural. And always does. You hear it everywhere. Each time.
The big thing in Chili about the guaguas is also the spoiling theme « regalonear ». This is their big obession. Really!
In essence it gives this « One shoud not spoil too much a child/grandchild, but I love him sooo much that I can't help it". So it is very often that you hear someone saying that this little child is "regalon" (the favourite, the spoiled one) or that one should not « regalonear » (spoil) with a face of « this is not right » and « yes but I love it so much I can't resist ».
If a guagua get capricious, this is because she is « regalona » (still with this mixture of « this is not right » but "she is so much worth it that it is understandable").
The other day, at the pediatrician, the secretary asked a grandmother if her grandson was her "regalon"… and the grandma to answer with a light and fair "yes", as if she needed to excuse herself for being catched in such weakness of love.
The guagua passport in Chili is all this and even more. And that is really great.
PS: promise ! We did not write this for ALL our friends who just got a baby and that we would love to see come and visit us!