Le vendeur de Cochayuyo - The Cochayuyo seller
Hier, le vendeur de Cochayuyo est passé dans le village. Cela faisait longtemps qu'on ne l'avait plus vu. La derniere fois c'était a Chillán.
Il passe avec son cheval, lentement, tres lentement et on l'entend de tres tres loin, avec un appel langoureux, d'où on distingue la fin du mot bien lente « oooo », « oooooooooo »……

En fait quand on ne sait pas ce que c'est, ca sonne comme un hurlement de loup, tres long, tres grave. Dans notre imaginaire, quand on ne savait pas ce que c'était, ca nous rappelait aussi un peu le cri d'un fossoyeur. C'est assez impressionnant.
Bon… et vous direz, c'est quoi le Cochayuyo? Ahhh le Cochayuyo !!! Et bien c'est une algue tres tres longue, qui ressemble a une sorte de boyau séché d'animal (d'ailleurs on a longtemps cru que c'était ca jusqu'à ce qu'on demande au marché). Et que mangent les chiliens.
Et le gout ? …c'est la que ca coince. Parce que la premiere fois qu'on en a mangé, sans savoir ce que c'était, dans une salade de tomate, on a trouvé ca vraiment pas bon. C'est pas souvent faut quand meme le noter, parce que pour ma part j'en ai mangé des trucs bizarres dans ma vie (demandez donc a mon frere de vous parler de l'huile de phoque que j avais ramenée d'Alaska).
Mais la seconde fois, on en a mangé dans des empanadas et c'est mieux passé. Ca ressemblait a du poireaux, Bref, ca doit surement pouvoir etre bon… si c'est bien préparé. Et c'est ce que beaucoup nous ont dit. Mais on n'est pas tres motivé par les experiences du passé. A voir ce qu'il en advient si la curiosité gagne sur notre méfiance…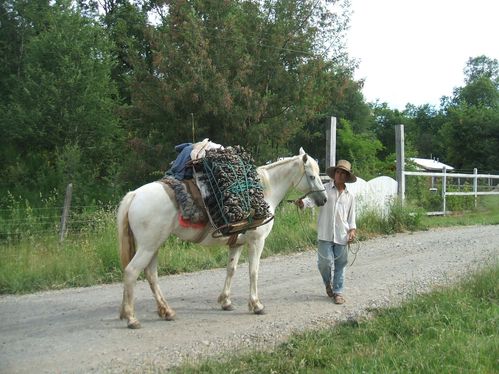 Yesterday the Cochayuyo seller was in the village, passing by in the streets. It had been a long time since we'd seen him, last time was in Chillán.
He walks slowly, very slowly with his horse, and you can hear him from very far, with a very languorous call, from which you distinguish only the end of the word "oooo", "ooooooo"…
When you don't know what it is, it kind of sounds like a wolf cry, long and low. In our imagination, when we didn't know yet what it was, it sounded like the call of a gravedigger or something like this.

Ok… you'll say, what is Cochayuyo? Ahhh the Cochayuyo !!! Well, it is a very large seeweed, that looks like a dried animal's gut (we actually thought that for a long time before we asked at the market in Chillán). And that Chilean people eat.
And the taste ? …. This is where the problems come. The first time we tried, without knowing what it was, it was served in a tomatoe salad, and we found it horrible. And it does not happen frequently to me, for I have eaten really weird things in my life (ask my brother about the seal oil I brought back from Alaska).
But the second time we had the opportunity to eat it, it was in empanadas on the coast, and we found it quite ok. Tasted like leek.
So the conclusion is, it surely can be tasty… if well prepared. And that is what many told us of those whom we asked. But we are not really motivated by past experiences. Let's see in the future. If curiosity wins over our suspicion.