Los Coquitos - Noix de coco a la chilienne - Chilean coconut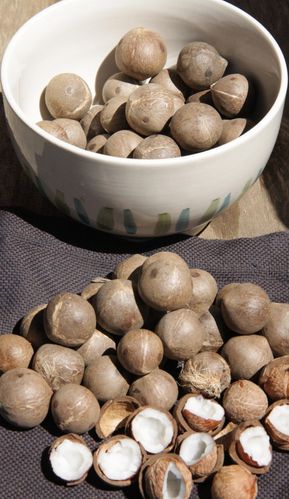 On a découvert cette petite noix de coco-Coquitos, issue du palmier natif du Chili, la Palma Chilena (Jubaea chilensis).
Elle a la taille d'une grosse cerise, et c'est de la pure chair de noix de coco, sans lait qui coule quand on l'ouvre. Un peu sec mais tres fun a grignoter finalement.
Et puis c'est tres surprenant cette si petite noix de coco!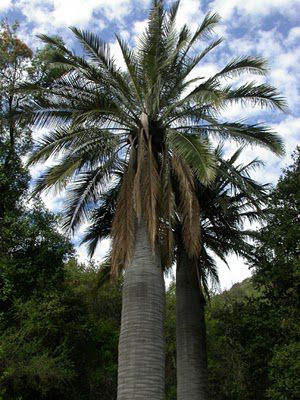 (cette photo/this picture from : http://estamosenpeligro.blogspot.com/2007/08/la-palma-chilena.html)
We just discovered this little coconut - Coquitos, growing on the native Palm tree of Chili, the Palma Chilena (Jubaea chilensis).
It has the size of a big cherry and is pure coconut meat, without the milk inside. A litlle bit dry but actually we found it really fun to it. And it is very surprising such a small coconut!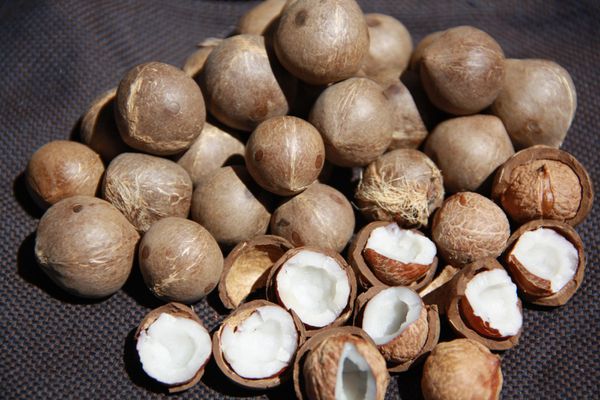 ON en a utilisé l'autre jour pour décorer un gateau que Thom a fait pour une demande. Ca fait vraiment tres joli. (mousse fraiche de fruit de la passion péruvien).
We used some to decorate one of the cake Thom had to create for someone the other day. It really does give a beautiful touch (a fresh mousse of peruvian passion fruit).