Noel au village - Xmas in the village
Il y a des enfants partout aujourdhui dans le village, comme on en voit rarement autant, les gens étant tres discrets ici et sortant tres peu de chez eux ( on a toujours pas compris si c'était une consequence du regime militaire ou si c'était culturel. On ne sait pas non plus si c'est dans tout le pays comme ca ou si c'est juste ici).
Bref, aujourdhui, comme chaque année… c'est noel en avance et tous les enfants de moins de 12 ans de la commune (plusieurs villages) recoivent un cadeau offert en fonction de leur age et de leur sexe. Elhaia a recu une (horrible) poupée en plastique qu'elle n'a meme pas regardée… hum hum , mais bon c'est une chouette initiative quand meme pour les enfants.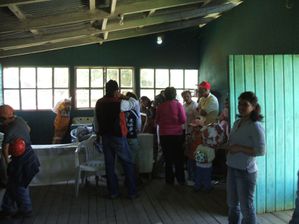 There are children all over the village today, as it is not seen so often, because the people here are so discrete and seldom go out of their houses. (We have not found yet if it is cultural or a consequence of the dictature that people stay inhouse so much. We don't know either if it is like this all over the country or just here).
Well, today, like every year… it is Xmas before time for the children of the whole region (several villages) who are under 12. They receive a gift offered by the municipality, according to their age and sex. Elhaia received a (really horrible) big plastic doll, that she did not even look at…hum hum… but anyway, it is a happy initiative in itself that surely is good for the children.