Nouveau Président... A new President....
Et voila. Hier, le Chili a voté pour son nouveau président et a élu, (sans surprise helas !), le multimillionaire Sebastian Piñera, proprietaire d'une chaine de tele et d'un journal. C'est le premier président de droite au Chili depuis la fin de la dictature il y a 20 ans et le départ de Pinochet. Pour le retour de la droite, le Chili elit un nouveau Pi'…… Esperons que seule la similarité des noms sera de mise.
Nous ne voulons pas parler de politique sur notre blog, mais ici, nous ne pouvons pas passer sous silence cette élection car elle est tellement importante.
Mais cet article est notre point de vue seulement, et représente notre vision des choses, que d'autres ne partageront pas.
De notre point de vue, Piñera est connu pour avoir fait fortune en profitant de la dictature de Pinochet, il est connu pour etre un patron sans scrupules qui n'hesite pas a payer le minimum seulement ses employés, il est connu pour manipuler ses journalistes des medias qu'il possède….
Ceux qui connaissent un peu l'étranger, n'hésitent pas a dire que c'est un Berlusconi en puissance, et qu'il a beaucoup du Sarkozy aussi (pour les plus cultivés…) …..
Il faut bien connaitre le pays pour comprendre tout ce qui peut nous surprendre de la part d'Européens dans cette élection. Et il est sur qu'on ne le connait pas encore assez. Mais nous ferons de notre mieux.
Le fait que par exemple, la parti de Piñera s'est allié a l'extreme droite (qui soutient la dictature de Pinochet) pour avoir plus de force. Imaginez que cela arrive en Europe… et les tollés qu'aucun futur président ne souhaiterait declencher par cette option.
Le fait que, en dehors des entrepreneurs qui ont tout a gagner de voir un parti de droite les gouverner, ce sont les pauvres, parmi les plus pauvres, que pourtant l'ancien gouvernement surtout avait particulierement chouchoutés, qui ont élu ce Président. Ils y voient un chef, et ils en ont besoin. Est-ce un héritage du fonctionnement des haciendas qui fait que les gens du campo ont besoin d'une figure de chef, d'une figure paternelle ?
Imaginez la notion de révisionnisme en Europe et tout le tabou qui va autour et qui fait qu'en Europe nous sommes tant prudents.., (parfois trop c'est vrai mais bon….) Ici, c'est nous qui sommes prudents, car la dictature n'est pas considérée comme dictature par tout le monde. Certains parlent de régime militaire, et d'autres encore de prononcement militaire seulement.
Longtemps cela nous a marqué sans jamais comprendre vraiment. Et puis on nous a expliqué que les termes utilisés étaient tres souvent symboliques de la position des personnes envers ce régime. Plus on s'eloigne du terme de dictature et plus la personne se positionne en faveur d'un régime dont elle n'a pas souffert ou voire meme qui lui a éte profitable. Alors ici, on se tait, on écoute, les gens qui parfois renient le fait meme que Pinochet fut un dictateur… Tout imbibés de la notion de révisionnisme et de ses dangers comme le sont les Européens, c'est pour nous tres troublant.
Mais la dictature de Pinochet fut tellement spéciale meme dans la manière dont elle s'est terminée qu'elle laisse une impression de vague ici. Nous n'en parlerons pas ici, mais disons que rien n'a jamais été clair, et qu'encore maintenant ca ne l'est pas. Pinochet etant mort avant meme d'être jugé pour son régime… il n'est meme pas inscrit dans la conscience collective comme quelqu'un dont il faut juger les actes. Ce qui donne a la mémoire collective le pouvoir de s'assoupir doucement … et a nous d'entendre des trucs incroyables que nous tairont cependant ici pour ne pas créer de polémique…..
Ce qui est fou aussi c'est que les gens ont élu un conservateur… dont le slogan était celui du « changement » (oui oui on sait c'est tres mode, pas très novateur en effet et super copié finalement … mais bon ca n'a pas l'air d'avoir mis trop la puce a l'oreille pour les gens)!
Quel paradoxe n'est ce pas ? Surtout qu'il a été élu par des gens dont beaucoup n'ont quasi jamais fait l'experience du changement, certains n'ayant meme jamais bougé de leur maison natale…. Nous parfois on se dit que les gens ont éte envieux de l'effusion d'espoir qu'a suscitée l'election d'Obama, et qu'ils ont eux aussi voulu vivre "leur moment Obama", bref un moment identique. En gros, pour devenir président en ce moment, le mot changement fonctionne comme un mot magique…..
Enfin, un des autres paradoxes, c'est de savoir que la présidente sortante, Michelle Bachelet (qui ne pouvait pas se représenter en vertue de la constitution) jouit d'une cote de popularité de pres de 80% a la fin de son mandat, grace aux politiques sociales et économiques qu'elle a menées. Quel autre paradoxe n'est ce pas ? D'etre a 80% heureux d'un gouvernement … et d'elire son rival par la suite.
Le seul point que nous pouvons souligner pour équilibrer le tout c'est que Eduardo Frei, le représentant de la Coalition, le parti sortant (celui la meme de la Bachelet), avait déjà éte président, et ne semblait vraiment pas a la hauteur soyons sinceres (ca rappellera aux Français une certaine election…..) Mais avec l'election de Piñera, ce n'est pas seulement un choix politique qui a éte fait il nous semble, mais aussi un choix de valeurs qui peut paraitre extremement derangeant et surprenant pour des Européens.
Sur ce… nous vous laissons avec le message (presque identique) qu'a laissé notre ami Rodrigo sur Facebook : nous souhaitons vraiment le meilleur pour le pays qui a élu quelqu'un dont les idées ne nous représente pas et nous espérons que le meilleur ressortira de cette expérience.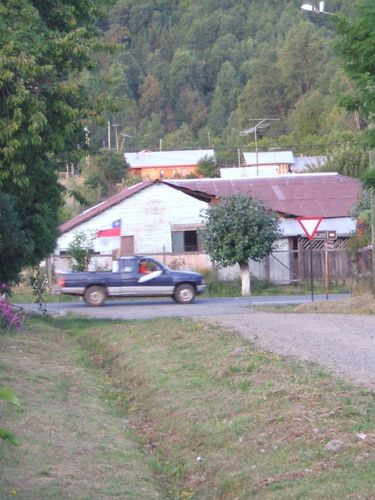 And here we are. Yesterday, Chili elected its new President (unfortunatly without surprise !) : the multimillionar Sebastian Piñera, owner of some medias.
It is the first right-wing President of Chili since the end of the dictature, 20 years ago and the departure of Pinochet. So the Right in Chili comes back actually with a new Pi'…. But sure there will be similiarity only in the sounds.
We do not want to speak about politics on this blog, but here we must, as it is important. But this is only our point of view, and so only our opinion, maybe not shared by others.
Form our point of view, Piñera is well known to have increased his fortune under the dictature of Pinochet, he is known for having no regrets when it comes to pay the minima wage to his employers, he is known for his manipulation of the medias, he owns one channel and one newspaper actually.
Those who know about foreign politics do not hesitate to compare him to Berlusconi, and to Sarkozy (for the most informed…) …..
But one shall know the country very well to speak about these elections. So we will try to do our best, though it is sure we do not know it well enough. But what is sure is that these elections can really surprise and call out Europeans in their own ways of functionning.
For example, the fact that the party of Piñera got an alliance to the extreme-right (wich supports the dictature of Pinochet) to gain in force… Can you imagine that in Europe? And the protest that none of the President overthere would be ready to face by this option.
The fact that businessmen (who have everything to win from these elections) voted for Piñera is understandable, but what is surprising is also that this President was elected by the poors, amongst the poorest, the ones the previous government really worked in favour though. They see him as a chief, a leader. And it feels like they need it. Is this a consequence of the hacienda system that people from the countryside here need such a father figure?
Imagine for an instant the sensitive notion of revisionnism in Europe and all the precautions that go with it. In Europe we are very careful about it (maybe too much yes..)
Here, it is us who are very careful, because the dictature is not considered as a dictature by everyone. Some of the people speak about the military regime, and others about the military "pronouncement" only.
For a long time, this has really struck us without understanding it actually. But then, we were explained that the way you speak about this period says a lot about the way you see it. The furthest you are from calling it dictature, the closest you are from not having suffered from it or even from having taken profit of it.
So here we are, silent, just listening, while some people deny even the fact that Pinochet was dictator…. And as fully aware of the notion of revisionnism and its dangers that we are as Europeans, it is very flustering.
But it is true that the dictature was so specific on its own way of working here, even the way it ended, that it gives a very stange impression here, like cloudy. We will not talk about it here, but let's say that nothing has never really been clear, and that it is not clear even today about this period. Even Pinochet died before being judged for his acts. So he is not remembered in the collective consciousness as someone who must be judged for what he has done. This gives the opportunity to the mass consciousness to slowly get sleepy in fact…and to us to listen to unbelievable things that we will not say here though…
What is incredible is also that people elected a conservator … whose slogan was « change »… ( yes we now it is very fashion these days, not very new actually and quite copied effectively… but it did not seem to strike people in their mind actually) !
What a paradox isn'it ? Especially to think that he also has been elected for change by people whom, we think, do not have the slightest idea of what change really means, for some of them have even never changed home or village in their whole life.
We sometimes think that people got jealous of the Obama's elections and all the hope it generated and that they wanted to have their own Obama's experience as well.
Well, in sumary, to become a president nowadays, speak about « change », it really works magics !
Another of the paradoxes is to know that people are 80% satisfied with the previous president Michelle Bachelet (who could'nt run for another mandate due to the constitution) thanks to the social and economical actions run by her government. What another paradox isn'it? To be satisfied with a government and to vote for the opposite …..
The only point we can say to balance everything is that Eduardo Frei, the running figure or the Coalition party, the previous government (the one of the Bachelet), had already been président, and was not really welcomed by even its electors (it will recall the french election to some of us…..) But with the elections of Piñera, it is not only the politic choices but the ideals that may seem a bit surprising and disturbing to Europeans like us.
On this… we live you with the (almost) similar words that our friend Rodrigo left on Facebook, we really wish the best to this country we love, who elected someone that really does not represent our ideas and we hope that the best will come out from this experience.