Sopaipilla, « Chancho en piedra » et autres petits moments du froid bien arrivé – Sopaipilla, « Chancho en piedra » and other small moments of the well arrived cold-
Nous ne savions pas que ce serait aussi rapidement… et pourtant depuis samedi il s'est mis a faire tres froid ici et il s'est mit a pleuvoir. La page de l'été est bien tournée.
Dans le village, le dicton dit que lorsque les enfants rentrent a l'ecole, la pluie et le froid arrivent. La rentrée des classes (pour ceux qui ont encore un batiment sur pieds) a eu lieu la semaine derniere dans la région, presque 3 semaines plus tard que la date initiale. Et le froid s'est installé la meme semaine. Ils m'étonneront toujours avec leurs dictons dans le village !
Les secousses fortes ont presque disparue et les activités d'hiver reprennent.
Thom est allé couper des arbres morts chez des amis pour avoir de la leña (du bois de chauffage).
Et hier soir, la tia Meri est arrivée avec une assiette pleine de Sopaipilla chaudes faites maison et de «Chancho en piedra» délicieux. Si ca ca ne sent pas l'arrivée du froid !
La sopaipilla, c'est de la pate a pain frite, comme du beignet salé, qui se vend dans la rue aupres de petits kiosques. Et les gens y rajoutent de la sauce dessus, ketchup, piment. On les voit manger ca meme tot le matin dans la rue quand on va en ville en hiver.
Et le « Chancho en piedra » c'est une sauce fraiche faite de tomates crues ecrasées, ail cru, oregan, sel (et piment et coriande fraiche…). On y trempe la sopaipilla et c'est vraiment super bon. Et bon… quand il fait bien froid, c'est vrai ca réchauffe.

Savoir pourquoi ca s'appelle comme ca par contre… « Cochon dans la pierre »…
Pour la pierre : parce que traditionnellement, on réduisait tout en purée dans un mortier.
Mais pour le cochon….. : aucune idée. Peut etre parce que c'est tout réduit en purée. Ou alors parce qu'on en met partout quand on le prépare. Je ne sais pas.
Toujours est-il que ce fut bienvenu et délicieusement pimenté et salé !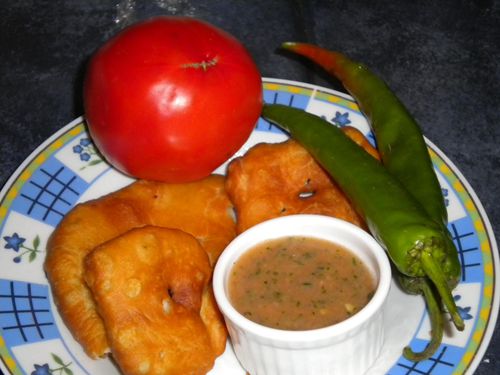 Sopaipillas et "Chancho en piedra" sauvés pour la photo avant qu'on ne mange tout - Sopaipillas, and "Chancho en piedra" saved for the picture before we ate everything.

We didn't know it would come so fast… but since Saturday, the weather has gotten really cold here and it began to rain. Seems like the summer's really ended.
In the village, they told me that when the first day of school arrives, the rain and cold arrive as well.
The first day of school (for those who still have a building for it) began this past week in the region, some 3 weeks after the initial date. And the cold arrived as well the same week. They will always astonish me here in village with their sayings!
The tremors have almost disappeared and the winter activities are coming back.
Thom went to cut dead trees at a friend's house to have some leña (heating wood).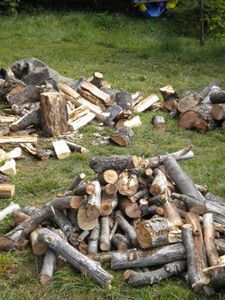 And yesterday, the tia Meri arrived with a plate full of warm homemade Sopaipillas and a pot of « Chancho en piedra », delicious. If this is not a sign of winter!
Sopaipilla, is a fried bread mass, like salted donut, that they sell here in the street at small outdoor shops. And people add salsa to it, like ketchup, chili, etc. We see them eating it early in the morning in the streets of the city, in winter.
And the « Chancho en piedra » is a fresh salsa made out of fresh raw mashed tomatoes, raw garlic, oregan, salt (and chili and cilantro…..). You dip the sopaipilla inside, and it is really good. And when it gets cold, it surely warms you.
But however, to know why it is called this way……. "Pig on/in the stone"
For the stone : because they used to mash everything in a mortar
But for the pig…. : no idea. Maybe because they would reduce everything in purée. Or maybe because it is a total mess after you've prepared it. I don't know.
Anyway, it is always welcomed and deliciously chili and salty!