Ce matin, la terre a tremblé jusque dans les montagnes chez nous. Mais l'epicentre était a Concepción, sur la cote. Avec une secousse de VI sur l'echelle de Mercalli (utilisée ici aussi avec celle de Richter).
Rien de degats ni de problemes majeurs a signaler.
C'est juste que pour nous qui ne sommes pas habitués, ca fait toujours bizarre quand la terre tremble.
Et puis le temps est tellement etrange ici, car nous sommes passés depuis hier, de l´'eté a l'hiver en en rien de temps, que ca donne une impression bizarre.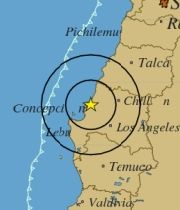 This morning, the earth shook, even in the mountains where we live. But the epicentrum was in Concepcion. with a register of VI on the Mercalli scale (also used here with Richter one).
Nothing damaged.
But it is just that we are so not used to earthquakes or even having small tremor that it still feels weird to us.
And the climate gives a very strange impression too. Because we just went from summer to pure winter within 2 days, and it really gives a strange feeling.