Tremblement de terre, 27fev 2010 1/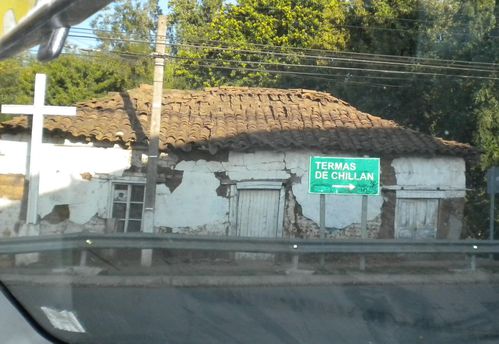 Au Chili, on dit qu'un gros tremblement de terre violent et destructeur arrive tous les 20ans. On attendait celui la, mais on ne savait pas quand il arriverait. Et bien, voila, il est arrivé et nous a tous pris par suprise dans la nuit du 27 fevrier 2010, a 4h du matin.
Nous etions tres proches de l epicentre. Et donc ce fut tres tres tres violent, puissant, impressionnant et jamais nous ne pourrons l'oublier.
Le bruit, les craquements de la maison en bois, la maison qui danse de droite a gauche, de gauche a droite, de droite a gauche et qui se secoue comme un corps malade ayant envie d expulser tout ce qu'il a de lourd sur l estomac. Le bruit de verre et de tout ce qui tombe et se brise sur le sol, tandis que nous sommes dehors a regarder la maison danser et l'impossibilité de garder l'equilibre sous nos pieds car le sol se derobe. Faire attention aux failles dans le sol de peur qu'elle ne vous entraine. Et le bruit, le bruit, le bruit, sous le regard de la lune quasi pleine. Cette impression de surnaturel.
Nous etions sans peur, juste impressionés, stressés, sous le choc, sous tension, mais sans peur.
Et la secousse primordiale a duré si longtemps, si longtemps.
Personne ici n'en a connu d'aussi long et d'aussi fort. Aujourd'hui dans le village, il faut voir les yeux des plus agés pour comprendre a quel point ce fut fort impressionnant. Beaucoup ont encore le regard vide, et marchent dans les rues, un peu comme des fantomes, disant qu'ils n'ont pas le souvenir d'avoir jamais vecu quelque chose d'aussi violent et aussi … d'aussi long. Car la secousse initiale, de 8,8 sur l'echelle de Richter, a duré tres tres tres longtemps. Environ 3mn. Et lorsqu'on dit que le temps est relatif c est dans ces moments qu'on s'en apercoit, car ca a paru durer une eternité.
Aujourd'hui encore, nous ne pouvons pas dormir vraiment. La terre continue de trembler par moments.
Nous avons de la chance.
Vivre dans une maison en bois.
Etre dans un village ou les gens s'organisent et ou les proprietaires de magasins ont refusé d'augmenter honteusement les prix contrairement aux villes ou les marchands profitent de la penurie pour augmenter les prix exagerement.
Sur la cote, des villages entiers ont été rayés de la carte entre tremblement de terre et tsunami. …. Certains que nous connaissons bien, comme Dichato et Cobquecura.
Alors nous avons enormement de chance.
Nous nous sentons tres forts. Tres protegés, tres gratifiants de vivre la ou nous vivons. Encore plus qu'avant. Et plein d'amour pour tout ce que nous avons recu jusqu'à present, meme au sein de cette experience folle et violente.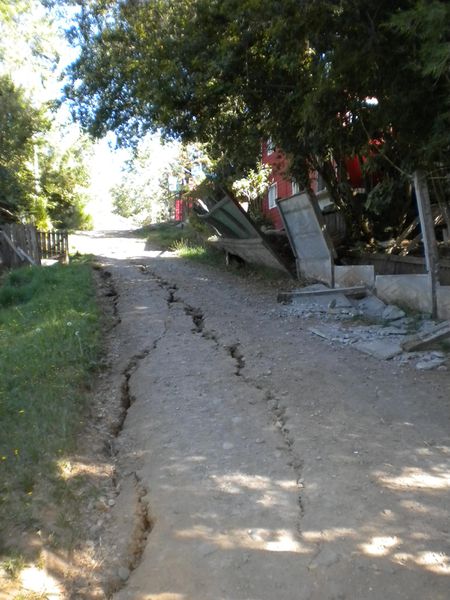 (la rue a coté de chez nous . the road beside our house)

In Chili, they say that a very big earthquake, violent and that destroys so much, arrives every 20 years. So we were kind of waiting for it, without knowing though when it would actually come.
Well. It came.
On the night of the 27/28 of february 2010, at 4am.
We were very close to the epicentrum. So it was very very violent, powerful, impressive and we'll never be able to forget it I think.
The terrible noise, our wooden house cracking, dancing from right to left, left to right, righ to left and jumping like a sick body who wants to expulse all that is making her sick inside her stomach.
The noise of the glass and of everything falling down while we are waiting outside, watching the house dancing and the impossible way to keep your balance on your feet for the floor is moving so much and so fast.
We had to watch out the road outside that it would not open under our feet.
And the noise, the noise the noise, under the gaze of the almost full moon. And this impression of something totally unreal.
We were without fear, just really impressed, chocked, stressed, but without fear.
And the primordial sismic move that lasted so long. Noone here has ever known such a long and violent earthquake.
Today still, you have to wath in the eyes of the elders in the village to understand how strong it has been. Many of them still have empty eyes and walk in the streets like ghosts saying that they have never experienced something as strong as this.
In our region, the move reached 8,3 on the Richter scale, which is very strong. And it lasted alost 3mn. What is very long. They say that time is relative. Well, it is in this moment that you get really aware of this. Because it seemed like it lasted an eternity.
Today still, it is not easy to sleep. The earth is still shaking at times.
We are very lucky.
To be living in a wooden house.
To be in a village where people are organising between themselves. And where shop owners refused to benefit from the situation like in the cities and so refused to higher the prices.
On the coast, some villages have been erased from the map, under the force of the earthquake and the Tsunami. Some like Dichato or Cobquecura that we knew very well and where we had gone quite a few times with our family visiting.
So we are very lucky beings.
We feel strong. We feel protected and very grateful for living where we live, even more than before. And full of love for all that we've received until now, even in this really violent and crazy experience.