Tremblement de terre, 27fev 2010 2/
Cela faisait 3 nuits que nous ne dormions plus. Sous tension. Nous faisions insomnie sur insomnie et dans la nuit du tremblement de terre, avant que la secousse n'arrive, Elhaia refusait de s'endormir, ce qui n'arrive plus jamais avec elle. Elle nous demandait a tout moment « maman, calin » « maman bisou », chose qu'elle ne fait absolument jamais. Nous etions epuisés, mais elle continuait, demandait calin sur calin et papa maman. Alors, a force de nous enerver (et oui !¡), elle a fini par dormir a 3h du matin.
Mais a 4h, nous nous sommes réveillés en sursaut. On a littérallement sauté du lit.
Les secousses etaient si fortes, tellement puissantes, que ca ne pouvait pas etre chose qu'un enorme tremblement de terre qui arrivait. Sans nous poser une seule question, je suis sortie a toute vitesse de la maison tandis que les pots en verre commencaient a tomber au sol. Et Thom est allé chercher Elhaia. Chacun, instinctivement savait ce qu'il avait a faire. Il n'y avait de toute facon pas de temps pour en discuter car nous ne savions pas si notre maison serait assez solide pour resister a des secousses aussi fortes.
Mais les secousses n'avaient pas commencé depuis 1mn que c'était déjà impossible de marcher correctement, de mettre un pieds devant l'autre en gardant son equilibre. Le temps que je sorte de la maison, j'entendais le verre tomber, les murs craquer follement, et le sol se derobait sous mes pieds.
Et Thom qui ne ressortait pas………
Nous etions dans la nuit, avec une lune quasi pleine et sublime et je regardais notre maison qui se secouait comme si tout devait se casser.
Et Thom ne ressortait toujours pas…..
Et donc…
Premiere lecon : Ne jamais mettre de meubles derriere une porte !
Car lors d'un puissant tremblement de terre, il peut etre propulsé vers la porte et vous barrer la sortie. C'est arrivé a beaucoup. C'est arrivé a Thom, avec Elhaia dans ses bras. Ils ne pouvaient pas sortir. Et comme les secousses du sol l'empechaient de se maintenir bien droit, il du repousser le meuble extremement fort pour pouvoir enfin sortir.
Je pense a notre petite puce qui avait les yeux ouverts pendant tout ce temps et ca me touche.
Mais ils ont reussi a sortir.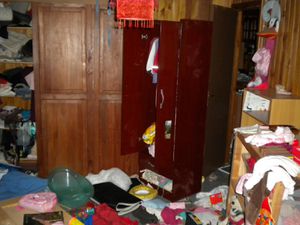 2/ Ne jamais dormir tout nu !
Comme j'ai toujours froid, je n'ai pas eu de souci , mais Thom, lui, s'est retrouvé en calecon dehors, et un ami francais qui habite un peu plus bas s'est retrouvé tout nu a regarder sa maison s'ecrouler.
3/ Ne jamais mettre de pots en verre en hauteur sur les etageres !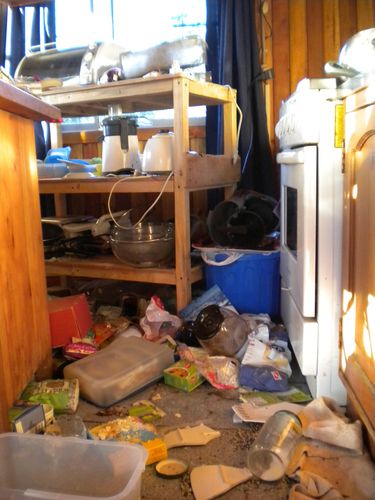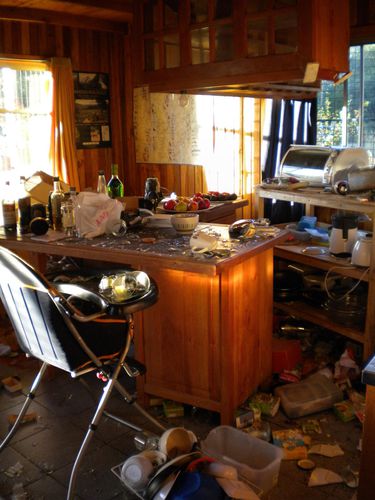 4/ Ne pas attendre que les chiens et les animaux en géneral vous previennent !
Car ils ne le font pas toujours.
Ce fut la grande interrogation du matin dans le village car aucun des chiens n'a gemit ou pleuré, hurlé, pour annoncer l'arrivée du tremblement de terre. Ils sont tres peu ceux qui disent avoir noté en effet un chat miauler etrangement, ou bien avoir vu les chiens avoir des comportements etranges.
Une amie dit qu'a Chillán, elle a vu les chiens errants (qui sont nombreux) se regouper en plein milieu de la rue au lieu de se mettre pres de murs chauffés par le soleil de la journée, comme ils le font habituellement.
Peut-etre n'a-t-on pas su voir les signes sinon. (notre petite chienne qui a eu tres peur)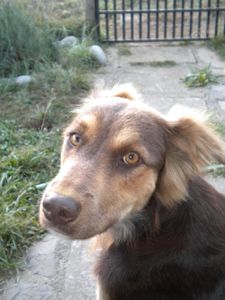 5/ Dans les jours qui precedent et qui suivent un tremblement de terre, on nous a dit que le temps devenait tres etrange
Nous ne savons pas si c'est vrai en général, mais ce que nous pouvons dire c'est que ce fut le cas pour nous dans le village. Quelques jours avant le tremblement de terre, alors que nous etions en plein été, le village s'est vu recouvert d'un etrange brouillard tres froid et humide. Les gens ont refait du feu et commencaient a racheter du bois. C'était le plein hiver.
Les gens d'ici nous disent qu'apres un tremblement de terre il peut se mettre a faire tres tres chaud, a cause de la pression qu'ont provoqué les secousses. Et bien…. Nous avons eu en effet 3 jours, a la suite du tremblement, de journées totalement suffocantes de chaleur. Sans eau, car l'eau n'était pas encore revenue.
6/ Les comportements s'exacerbent

Au debut, comme dans toutes les catastrophes naturelles, les gens se sont aidés, embrassés, consoler. Hier encore, lorsque nous sommes descendus a Chillán, nous avons vu plein de fois les gens le long de la route se prendre dans les bras. Les gens ont aujourd'hui follement besoin d'amour.
Et puis le temps evoluent, et chacun se retrouve face a ses emotions. Je ne parle pas des scenes de pillage et de destruction qui ont eu lieu dans des villes a Concepcion par exemple.
Mais ici, on a vu que certains se desesperent, d'autres deviennent « durs et forts », d'autres se plaignent, d'autres encore deviennent sourire et legereté et essayent d'alléger l'athmosphere.
Ici dans le village, plusieurs se sont mis a prêcher.
C'est toujours comme ca, il faut un responsable.
Et donc pour certains c'est Jesus qui est venu annoncer son retour, Dieu qui est venu montrer sa colere, Dieu encore, qui est venu « gratter du doigt » comme on m'a dit…. (mais je n'ai pas compris la suite).
Moi ce que j'ai pensé a deux choses.
J'ai repensé aux messages canalisés des maitres asencionnés et des archanges, principalement de l Archange Michael, qui depuis quelques années mais depuis deux ans surtout nous disent que la terre va changer d'axe et que l'arrivée d'une « nouvelle terre » est imminente car il est temps pour la terre de passer dans une dimension supérieure energétiquement.
J'ai repensé aussi au fait que le peuple chilien a voté il y a quelques semaines seulement pour un Président dont le

slogan principal (passeport gagnant bien sur) était « soumet toi/Resout toi au changement ! ». Et les gens n'avaient que ce mot la a la bouche : « changement, besoin de changement ».
Alors je me suis dit que le reve collectif du pays avait été si fort que peut etre en effet l'energie du changement était en effet venue a travers cet evenement, meme si le changement devait d'abord passer par la destruction… dont je ne pense pas les gens se rendaient vraiment compte.
J'ai toujours entendu dire que nos souhaits, s'ils sont exprimés avec force et conviction sont toujours réalisés, mais qu'on ne sait pas decider par contre de la forme qu'ils prendront, du processus a travers lequel ils se realiseront ni des conséquences qu'ils auront.
Quand a nos emotions a nous, c'est difficile de l'expliquer.Mais ce ne fut pas de la peur, sinon beaucoup de stress, de tension. Nous avons stressé comme jamais auparavant, mais pas paniqué. Une tension folle, telle que j'en avais mal au niveau de la vesicule et du foie la nuit du tremblement de terre. Aujourd'hui encore, nous sommes encore un peu sous tension. Mais ce dont on se souvient aussi, c'est d'une force intérieure enorme qui nous a amenée a faire les bons gestes aux bons moments. Merci.
Ce que je trouve triste, c'est que dans le recherche de responsable certains cherchent desesperement un coupable quitte a devoir accuser, comme ils le font maintenant, la president Michelle Bachelet qui en est a une semaine de passer la main a son successeur. Elle se fait accuser aujourdhui de ne pas avoir prevenu les villages pour le Tsunami, de ne pas avoir réagi assez fort face aux pillages….. Bref. Dans la recherche d'un coupable, parfois je me dis quand meme qu'on va vite en besogne surtout quand il s'agit d'un tremblement de terre. Faut-il toujours que les hommes pensent qu'ils peuvent tout maitriser jusqu'à se dire qu'il peuvent prevenir a l'avance de l'arrivée d'un tremblement de terre ou d'un Tsunami. Oui je sais bien que des observatoires existent et cherchent a prevenir les pays en avancent. Et que tout repose sur des calculs et logiciels et je ne sais quoi encore. Mais bon. Je me dis que nous perdons beaucoup d'energie dans ces choses la quand meme.
7/ Vive les maisons en bois !
Ici, dans les montagnes et dans les campagnes, on construit beaucoup en bois, et c'est ce qui a sauvé le pays je pense. Car en cas de tremblement de terre, il n'y a rien de plus souple. Malgré la danse du toit que j'ai vu ma maison effectuer dans la nuit du tremblement de terre, elle est sur pieds. Merci !
Certaines pieces ne sont plus aussi parfaitement carrées qu'avant, certaines portes qui ne se fermaient pas, se ferment aujourd'hui… et certaines qui se fermaient, ne se ferment plus du tout (comme c'est le cas pour notre salle de bain).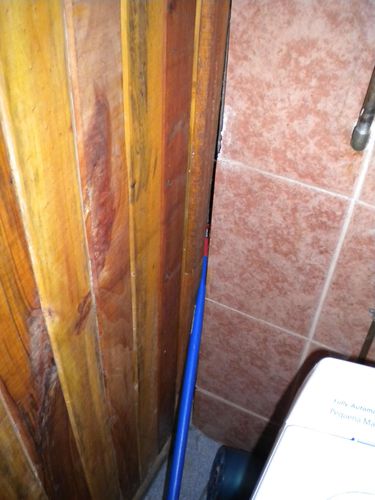 (here is our broom between 2 walls - notre balai entre deux murs)

Les murs interieurs de notre salle de bain se sont repoussés d'environ 7cm. La porte ne trouve donc plus aucun mur a embrasser pour se fermer. Ces murs ont emporté dans leur sillage une cuillere en bois, une brosse a dent de bebe, et un balai qui resteront encastrés a vie.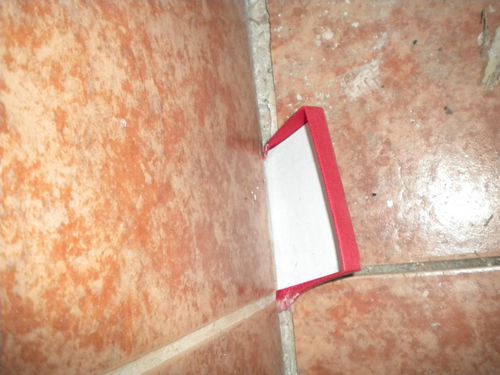 (coincés dans le mur . stuck in the wall)

8/ Mais il nous manque une lecon quand meme…..
Comment faire avec notre petite puce qui ne pleure jamais et garde tout en elle, et qui ne parle pas encore assez pour nous decrire exactement ses peurs, mais qui est assez grande pour avoir eu les yeux ouverts pendant qu'on la sortait de la maison ? Elle se reveille la nuit et fait des cauchemards en appelant son papa ou en demandant un calin a sa maman.
Elle n'a pas donné un seul signe de stress durant la nuit du tremblement de terre, n'a pas pleuré. Probablement sa manière a elle de gerer, elle nous a demandé de chanter. Et voila, qu'en meme temps que la maison, elle se mettait a danser tandis que nous lui chantions « les petits poissons », « Meunier tu dors (les paroles s'imposaient) », et d'autres encore.
Encore une fois merci a cette energie de protection qui nous a enveloppé et permis de vivre cet evenement dans un endroit sur et d'etre saufs aujourd'hui.
Merci a tous ceux qui nous ont laissé des messages et qui ont essayé de prendre de nos nouvelles. C'est fou ce que ca a fait du bien.
Merci a Rodrigo sans qui nous n'aurions pas pu contacter nos parents.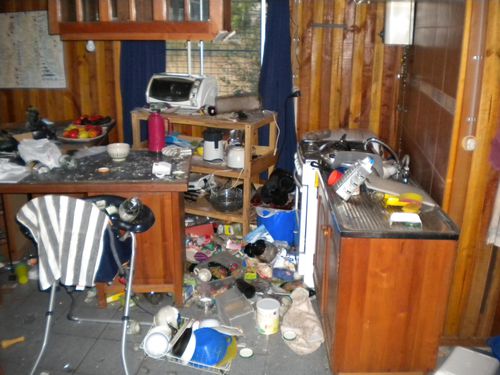 (inside the house after the earthquake - dans la maison apres le tremblement)

We had 3 nights of pure insomnia before the night of the earthquake. And we just couldn't do anything for it. We were feeling totally under tension without the possibility to even close our eyes. And we did'nt know why. Elhaia either. But particularly the night of the earthquake, before the first tremors, she refused to sleep and began to do things that she never does normally: she was asking for hugs and kisses, which is not su usual for our little girl who does not like to be touched so much.
She was asking "mama kisses", "mama hug" all the time.
But we were so tired from our 3 previous insomnia nights that we could not help but yell at her to ask her to sleep (I know !!!!¡) . She finally slept, at 3am.
But at 4am, we suddenly woke up. We litteraly jumped out of bed. The moves where so strong, so powerful, that it could only be one thing : the coming of a big big eathquake.
Without even thinking, I went out ouf the house, running, while the glasses were beginning to fall down. And thom went to get Elhaia in her room. Each one of us knew instinctively what to do. There was no time to speak anyway because we just didn't know if the house would stay straight and would resist such violent tremors.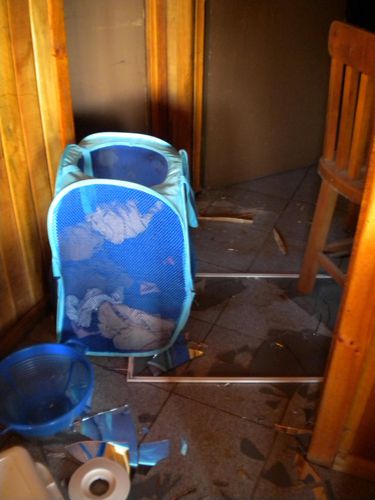 The tremors had not begun for 1mn that it was already impossible to walk correctly, to put one foot before the other and keep your balance. While I was going out, I could hear the glass falling down, the wall cracking madly and the floor shaking like crazy.
And I couldn't see Thom going out of the house yet ………
We were in the night, with an almost full moon, sublime and I was watching our house dancing and jumping as if everything needed to be broken inside.
And thom…. Who was not going out…
So…
First lesson : Never put a furniture behind a door!
Because during a powerful earthquake, it can be projected against the door and keep you inside. Il happened to many. It happened to Thom, with Elhaia in his arms. They couldn't get out. And as the shakings of the floor would not allow him to stay straight, he had to push strongly the furniture to be able to finally go out.
I think about Elhaia who was opened eyes all that time.
But they finally succeeded to go out.
2/ Never sleep naked !
I am always cold, so I did not have problems. But Thom found himself outside, only in panties. And a french friend, living a few houses before, found himself outside, naked watching his house falling down.
3/ Never put glass pots on shelves!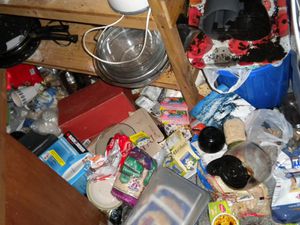 4/ Do not wait for the dogs or animals in general to warn you !
Because they do not do it always.
This was the big interogation in the morning after the earthquake. Because none of the dogs in the village did moan, cry or howl to announce the coming of the eathquake.
Very few in the village in fact say that they noticed (aftewards) a different behavior from their animal. A friend in Chillán said that she saw the stray dogs grouped in the middle of the streets instead of being normally lying down close to a warm wall, heated by the sun during the day, as they usually do.
But maybe we did not see the signs either.
5/ In the days that come before and after the earthquake, they say that the weather gets very strange too.
We don't know if this is true. But that is what they say uphere. And it has been our experience here.
A few days before the earthquake, although we were in full summer, the village got covered by a very strange cold and humid mist. People had to do fire to heat the houses and were beginning to buy wood again. It was full winter in normally full summer.
People here say that after an earthquake too, the weather can get really really hot, due to the pression provoked by the tremors. We had it effectively. …. We had 3 days of big big heat, after the earthquake, suffocating with heat. Without water, because they'd cut it in the village.
6/ The behaviors get stigmatised
At the beginning, as often after this kind of event, people join, hug, kiss. Yesterday, while we where going to Chillán, along the way, we saw people hugging. I think that today, people have a crazy need for love and tenderness in the country.
And as time goes, everyone is here, facing his own emotions. I do not speak about the sacking or destruction scenes that happened in the cities, like in Concepcion.
But here, we saw that some people got despered, others becoming very "though and still", other complaining a lot, other becomins smiles and light, and trying to make the athmosphere a little bit more light.
Here in the village, many began to preach.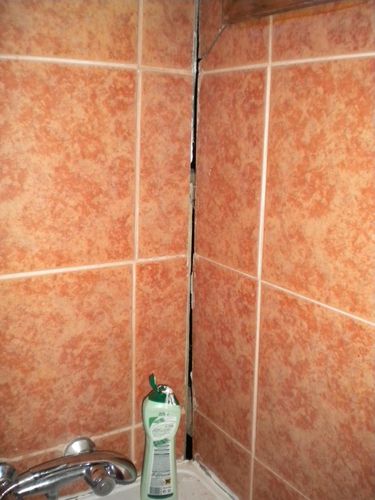 It is always like this, no? We need to know where it comes from.
So for some people, it was Jesus who came to announce his return. For other, God who was angry. For other too, God again, who « put his finger to scratch »… (but I did not understand the rest of it actually.)
For my own part, I thought about two things.
I thought first about the channelings of the ascended masters and of the archangels, like Archangel Michael, that we follow, who keep saying for a few years now that the earth will change its axis and that the earth is transforming herself to become a "new earth" for it is time to enter a new superior energetic dimension than the one we are living in right now.
I also thought about the chilean people who voted a few weeks ago only for a new President whose main slogan was "submit yourself/resign to change" (wining passport of course!). And everyone was talking about "change", "wanting change", « the need for change ».
So I thought about it and that maybe the collective dream of the country had been so strong that effectively, through this event, the possibilities of change had come. Eventhough it had to come through destruction first… what I am not sure people thought of first.
I always heard that if we have strong wishes, and we express them strongly and with enthusiasm, they get realised, but that we cannot decide about the form they will take when they arrive, nor about the process through which they will get realised and nor about their consecuences.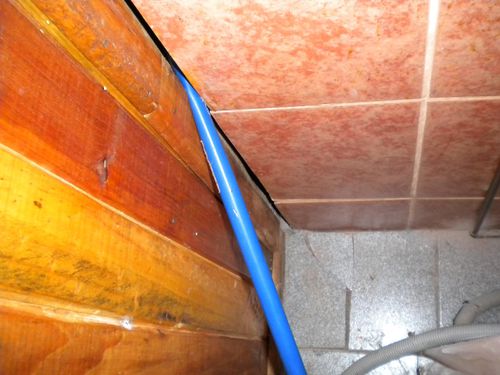 (still our broom - notre balai)
For our emotions, it is difficult to explain. We did not have fear, but extreme tension. A crazy tension as strong as we never felt before. So much that my kidney was hurting in the night of the eathquake. Today still, we are a little bit under tension. But what we remember also, is a crazy strength inside, that protected us and told us what to do and when to do it.
Thank you.
What I think is sad, is that looking desperately for culpables, people are now accusing the president Michelle Bachelet who still has one week of presidency before leaving it to her sucessor to not have warned about the Tsunami and to not have reacted fast enough to the sacking of the cities.
So, looking for the guilty person, I think that people are doing it a bit fast and loosing a lot of energy in this.
7/ Thanks to the wooden houses !
Here in the mountains and in the countryside, we build in wood. And that is what saved the country I think. For there is nothing more flexible than this. Beside the maddly dance I saw her do during the night of the earthquake, she is still here! Thank you.
Some rooms are not so square anymore, some doors which would not close are now closing, and others which would close before, do not close anymore (as it is the case for our bathroom).
The inside walls of our bathroom were pushed from 7cm from their original place. So the door does not find any wall to embrace anymore to close. Under these wall, you'll find stuck, a wooden spoon, a baby toothbrush, and our broom.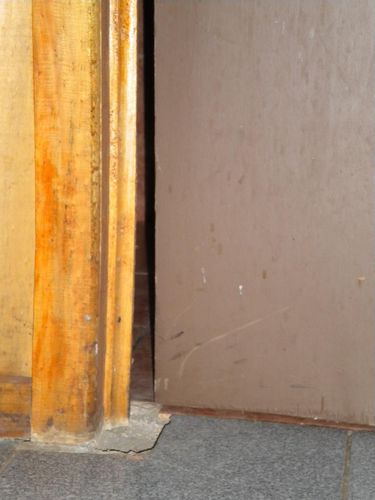 (the wall got pushed from 7cm on the left... so the door does not close - le mur de la salle de bain a ete poussé de 7 cm, la porte ne ferme plus)

8/ But we still need one lesson…..
What to do with our little girl of 2 who never cries and keeps everything inside and who does not speak enough to describe her fears, but who is big enough to have been really aware of what happened. She was opened eyes through the event.
She wakes up in the night after nightmares, and calls for her dad and asks her mum for hugs and kisses.
She did not show any sign of stress during the night of the earthquake and did not cry either.
Probably, her way of dealing with the stress was for her to ask us to chant. And so as the house was dancing with the tremors, she also was dancing with the baby songs that we were singing to her.
Again, thank you to this energy of protection that wrapped us up and that allowed us to live through this event in a safe place and be safe today.
Thanks to all of you who left us messages and tried to take news from us. It felt so good.
And thanks to our friend Rodrigo through whom we had the chance to contact our families.