Tremblement de terre-Earthquake, 27fev 2010 5/
A l'heure d'aujourd'hui, le choc de la premiere secousse passé (mais pas l'unique

car ca continue fort de trembler), les gens s'organisent dans tout le pays pour venir en aide aux zones sinistrées de la cote, comme dans les villages de Dichato, Cobquecura et Constitucion.

Au dela de ce que vous pouvez voir a la télévision et qui est vraiment peu rassurant, sachez qu'il y a aussi dans tout le pays un formidable élan d'entraide, réquisitionnant les médias, et tous les volontaires
, mais bien sur les médias ne vous le montrent pas.

Nous, nous n'avons pas besoin d'aide. Mais les villages de la cote qui sont totalement détruits ont laissé une population démunie sans toit ni nourriture.
Alors si vous voulez aider, contactez-nous. Car les gens ont besoin et vont avoir encore plus besoin a l'avenir car l'automne arrive a grand pas.

Sachez qu'avec un peu de dollars ou d'euros, nous pourrons acheter beaucoup de choses, que ce soit en nourriture ou en couvertures. Nos contacts sur place a Dichato nous diront quoi acheter, tandis qu'ils y travaillent comme volontaires.

Milles de gracias par avance.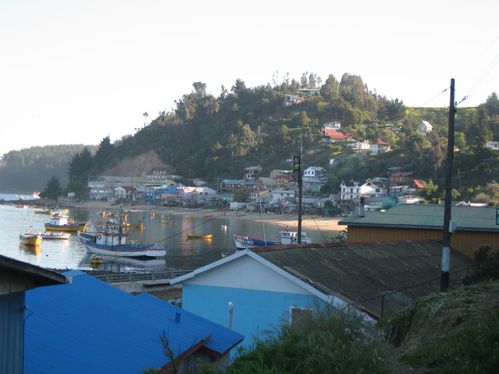 This is a picture of what was Dichato - Voici une picture de ce qu'était Dichato
Today, the trauma of the first quake gone (but not he only one for it is still shaking a lot

), people are really helping each other and getting organised in the whole country to help the devastated regions of the coast, like the villages of Dichato, Cobquecura and Constitucion.

Aside from what you can see on TV and that is really not reassuring, know that there is also in the country an amazing movement of help, working through the medias, and volunteers... but of course the medias do not show this to you.

We personally do not need any help. But the villages of the coast which are totally destroyed left a population ruined, without house nor food.
So if you want to help, contact us. Because people are really in need and will need even more as the autumn arrives very soon.

Know that even with a few dollars or euros, we can buy many things here, wether it being ffod or covers. Our contacts on the site of Dichato will tell us as they are working as volunteers there.

Milles de gracias in advance.