Un "Macaveo" dans MA cuisine ! A "Macaveo" in MY kitchen !
On a beau vivre ici depuis un peu moins de 3ans maintenant, on en reste pas moins susceptibles d'etre surpris certains jours.
On nous a souvent répété que la culture chilienne était une culture tres machiste (mais bon laquelle ne l'est pas a un certain degré ceci-dit !?) et c'est vrai que nous avons rarement vu des hommes cuisiner ou débarrasser la table pour rester dans des exemples tous simples et bateaux.
Lorsque les vendeurs de légumes ambulants ont vu un jour Thom en train de laver la vaisselle, ils ont bien rigolé, lui disant qu'il existe un terme chilien pour nommer ca : « Macaveo » en gros, celui qui se fait mener a la baguette par sa femme ! En gros, dans notre campagne bien profonde du fin fond du monde, si t'es un homme et que tu fais la vaisselle, c'est trooooop la honte ! Bon, hum hum.
Hier, j'ai recu une initiation que je ne suis pas prete d'oublier.
Un tres bon ami de Thom qui était de passage dans le coin pour son travail est passé chez nous sur le chemin du retour avec deux de ses collegues (une femme et un homme).
Apres avoir discuté un peu, cet ami me dit gentiment:
« Anne, j'ai une question a te poser.
Je voulais savoir si on pouvait utiliser ta cuisine pour rechauffer notre repas de midi…… »
Et la, je suis restée bouche-bée.
MA cuisine ?!!!!!? Ca alors. Jamais ca ne m'était venu a l'esprit de parler de MA cuisine !
« Euh bah oui euh bien sur », ai-je répondu encore un peu surprise par ce que je venais d'entendre…….
Surtout que vu la configuration de notre maison, la cuisine c'est aussi le salon et le lieu de vie de toute la maison, vu qu'il n'y a qu'une piece.
Sur ce, la femme/collegue est rentrée et s'est affairée a préparer a manger.
Quand ce fut prêt, ses deux collegues et elle se mirent a table, mangèrent, puis quand ils eurent fini, sortirent dehors et la femme se mit a faire la vaisselle (la mienne y compris d'ailleurs,oups).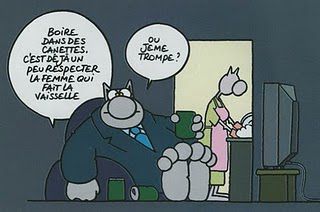 Et de une pour une lecon de culture chilienne !
Eventhough we've been living here for a little less than 3 years now, we still get surprised some days.
We had often heard that chilean culture was really machist (but which culture is not machist at one point to say it frankly!?) and it is true that we have very seldom seen men cooking or just helping to clean the table after a meal… to stay in
very gross and big picture's examples. ("To drink in cans is yet a small mark of respect to the woman... is it

not?")

When the intinerant vegetables sellers saw once at Thom washing dishes, they laughed, and told him that it had a name in Chile for this : « Macaveo », which grossely means that you are not the one in charge in the house. In big words, in our very very typical and end-of-the-world countryside, if you a man and that you wash dishes, that is just sooooo embarraaaaaassing! Well, hum hum.
Yesterday I received an initiation!
A very good friend of Thomas was working in the area and passed by to our house after his work with his colleagues (a man and a woman).
After we talked a little, this friend told me kindly :
« Anne, I have a question for you.
I wanted to know if we could use your kitchen (TU Cocina) to heat our lunch…… »
And I got mouth opened ! MY kitchen ?!!!!!?
Never happened to me to think that it was MY Kitchen!
« Well, yes, emm, for sure…. » I said, still surprised by what I had just heard….
Especially that when you see the configuration of our house, the kitchen is also the place where everyone is because it is also the living room, as we only have one big room, apart from where we sleep.
ON this, the woman/colleague came in and began to prepare the meal.
When it was ready, her two colleagues entered the house, they all ate and when it was over, her colleagues went outside and she began to wash the dishes (mine as well, ups!)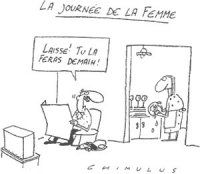 So much for a chilean cultural lesson !
(International Day of the woman.
"Just leave it! You'll do it tomorrow!")