Valle Aguas Calientes 2/ - Termas de Chillán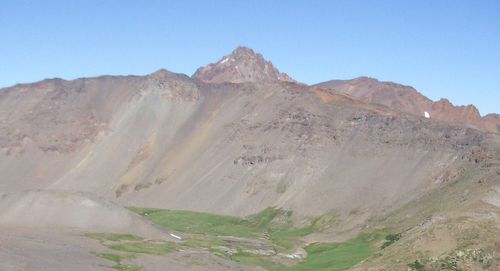 I
l y a quelques jours, nous sommes partis en randonnée pour deux jours dans la superbe vallée d'Aguas Calientes, qui se trouve sur le versan sud-ouest (enfin c'est ce qu'on croit) du volcan Chillán, derriere la partie visible depuis les Thermes.

La randonnée commence depuis deux endroits différents. Soit par le chemin des fumarolas (geysers de vapeur d'eau souffrée), soit par Valle Hermoso qui est un complexe de tourisme un peu plus en bas de la route des Thermes et qui a son propre chemin dans la montagne pour arriver jusqu'aux fumarolas.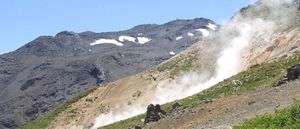 Aux fumarolas, se trouvent des bassins naturels d'argile liquide qui attirent beaucoup de touristes en été car ils viennent y faire des cures. Ils vont ensuite se rincer dans le cours d'eau qui se trouve un peu plus haut. C'est suffisamment bénéfique pour que des gens de tous ages se risquent a faire la premiere partie de cette randonnée qui grimpe déjà fort.
Mais pour atteindre la vallée d'Aguas Calientes, il faut continuer de monter, monter, monter, monter…… dans la poussiere et la roche de la montagne pour atteindre le sommet et redescendre ensuite, redescendre, redescendre, redescendre. Mais comme vous pouvez vous en douter, la vue est superbe et vaut vraiment l'effort une fois de plus.
Lorsque nous nous sommes arretés pour dejeuner tout en haut de la montagne, avant de redescendre dans la vallée pour y planter la tente, une famille de condors est sortie de je ne sais oú. Le male, la femelle et le tout petit (bon bah si petit que ca mais bon, ses ailes etaient toutes blanches, comme les ont les bébés condors). Encore une fois, nous avons senti la bénediction du lieu et la chance que nous avions de nous trouver a cet endroit là, a ce moment là.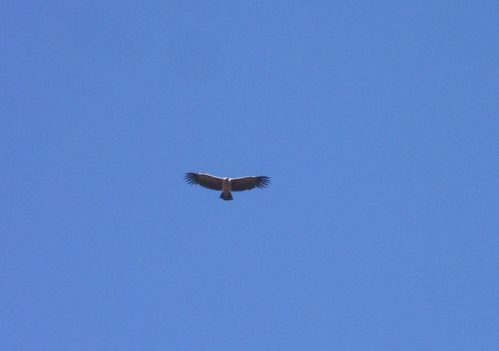 La vallée d'Aguas Calientes (Eaux Chaudes) porte son nom de la magie d'avoir des torrents d'eau chaude qui sortent du volcan. Ce qui fait qu'on se retrouve en pleine nature, entre les montagnes, et au lieu d'avoir des torrents d'eau glacée, l'eau est équivalente a celle de votre baignoire. La sensation est vraiment magique en fait et je crois que jamais nous n'avons été aussi propres en randonnée.
Le lendemain, nous avons marché jusqu'à la source du rio Diguillin, un des rios les plus importants de la région. A cet endroit, comme la nature est bien faite, se trouve un bassin naturel , oú deux sources se rejoignent : celle du volcan, thermale et brulante et celle des glaciers, glacée ( ! ). Et au milieu de ce bassin, on se retrouve comme dans une baignoire, dans une salle de bain naturelle en quelque sorte, au milieu de nulle part, dans un paysage quasi desertique de poussiere et de pierres d'un coté et d'herbes hautes et humides de l'autre.
Tres beau !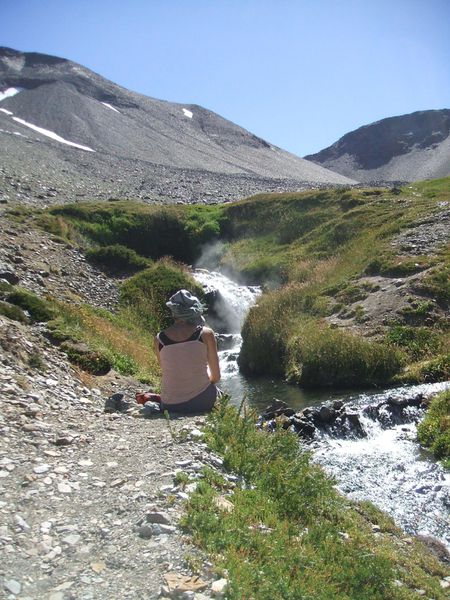 A few days ago, we went to hike for 2 days in the beautiful Valle Aguas Calientes, on the south-west side (we think) of the volcanoe Chillán, behind its visible part from Las Thermas.

The hike begins from 2 different places possible. Either by the walk of the fumarolas (hot sulfured steam water geysers), of by Valle Hermoso, a turistic complex a little more down from the road to Las Termas; which has its own trail to the fumarolas, in the mountains.
At the fumarolas, you encounter natural pools of liquid warm clay that attract many tourists in summer, coming for natural clay therapy. They go then in the cold water from a small river situated above.
You'll meet people from all ages overthere, who dared to walk the hike to benefit from these clay pools. And this hike really climbs yet!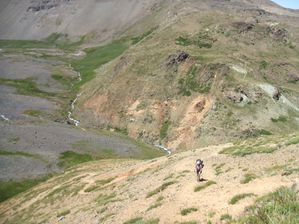 But to reach the Valle Aguas Calientes, you have to go on walking, climbing, climbing, climbing, climbing in the rock and dust of the mountain, to reach the summit…. and then go down, down, down, down, down to the valley. But as you can guess, the view is awesome and woth the effort once again.
While we were having lunch at the summit between rocks, to escape from the really cold wind, before going down in the valley to dress up the tent, a family of condors went out to fly righht before our eyes. The male, the female and the little one (well not so little though, but his wings were all white as baby condors do have).
Once again, we felt the blessing and the luck of being there, at the right place, at the right time.
The Valle Aguas Calientes (Warm Waters) is called as such for its magical torrents of warm waters falling down from the volcanoe.
You find yourself right in the middle of a warm water torrent, in the middle of pure nature, and mountains and in stead of having ice water, you have a water that has the temperature of your bath. The sensation is really magical and I don't think that we've ever been so clean on a hiking trip before.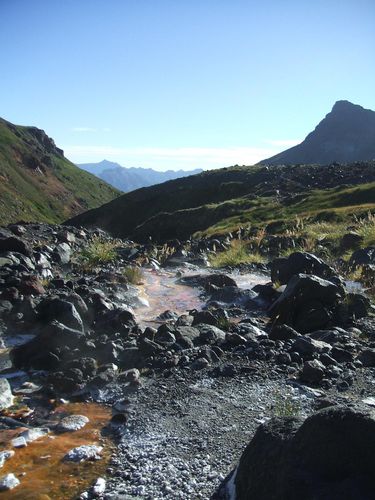 The next morning, we walked to the source of the Rio Diguillin, one of the most important rio of the region. At this place, nature is so perfect, melt in one pool, two sources : one from the volcanoe, thermal and burning, and one from the glaciars, frozen (!). And in the middle of this pool, you find yoursefl again like in a bath, a natural bathroom, in the middle of nowhere, in a semi-desertic landscape of dust and rocks on one side, and high, wet herbs on the other side.
Awesome again!