Fiestas Patrias2010 Bicentenario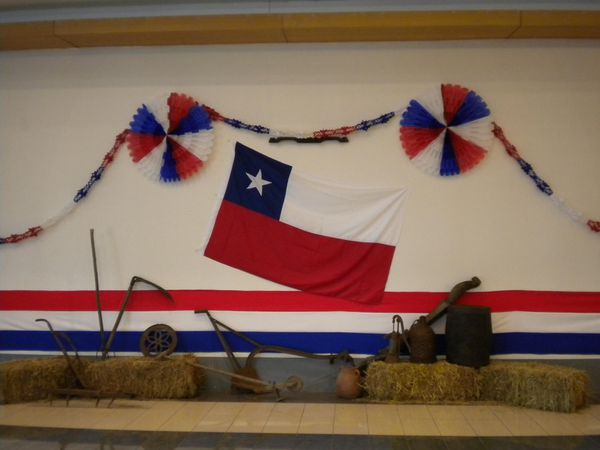 (A l'entrée du supermarché - Entering at the supermarket)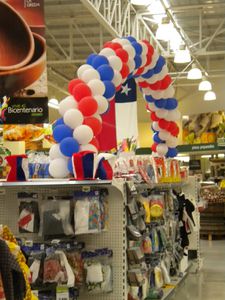 Cette semaine, en fait tout le mois de septembre, le pays est en fete, car c'est la Fete Nationale le 18 sept. Mais comme son nom l'indique FIESTAS PATRIAS :… c'est au pluriel, car c'est bien simple, ca dure des semaines. Tout le mois.
Nous ce qu'on aime voir c'est l'engouement pour cette période, comparé a ce qu'on peut voir en France ou en Belgique.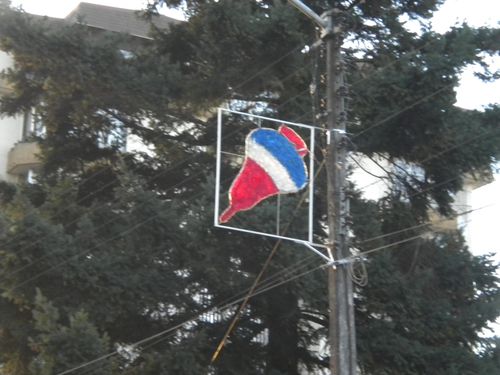 Ici, des le début septembre, les drapeaux et décorations commencent a pululler. De tous les cotés.
L'impression que ca donne c'est comme celle de Noel.
Les déco partout aux couleurs du drapeau chilien, dans les rues, les maisons, les magasins, les petits drapeaux accrochés aux voitures, ceux aux maisons (vieille loi de la dictature qui est restée en vigueur, comme beaucoup de lois de cette période d'ailleurs, le drapeau est obligatoire aux maisons), les chants et musiques traditionnels et folcloriques partout dans la rue, a la radio, les fanfares qui s'exercent. Les gens en habits traditionnels. Les prix des denrées alimentaires qui augmentent exagérément parce que ce sont des jours et des jours de fetes culinaires et de BBQ ! Et plein d'autres choses encore....
Et en plus, cette année, le Chili fête ses 200 ans d'indépendance. Donc l'occasion est encore plus forte.
Voici quelques photos prises la semaine passée a Chillán.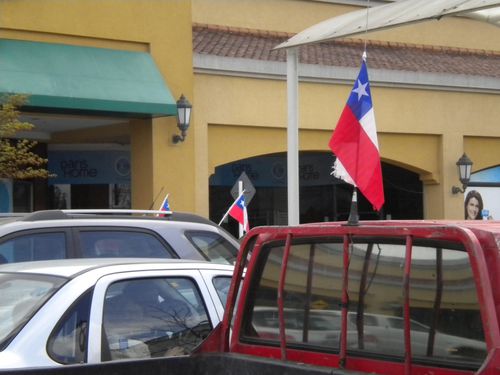 This week, in fact, the whole month of September, the whole country is celebrating.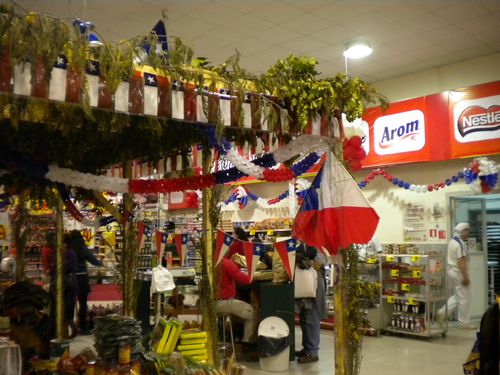 The 18th of sept is the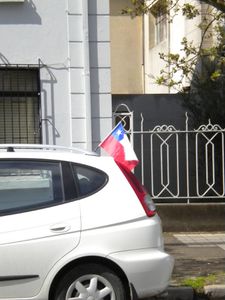 National Day. But as the name says it: FIESTAS PATRIAS…..it is in plural, simply because it lasts and lasts several weeks, the whole month in fact.
What we like to see is the passion Chilean people put in these celebrations compared to what can be seen in France or in Belgium.
Here, since the beginning of September, flags and decorations begin to multiplicate, everywhere.
For us, the impression is the same as the one we have with Xmas.
Decos everywhere with the chilean flag's colours, on streets, houses and shops, small flags on cars, flags on houses (old law from the dictature that is still on, as are many in fact, that obliges to have the flag put on for this day), traditional and folkloric songs and musics in the streets, on the radio. The school military bands practising. People wearing traditional outfits. The prices of food supplies rising up because these will be days when we eat and eat and have BBQ! And many other things as well......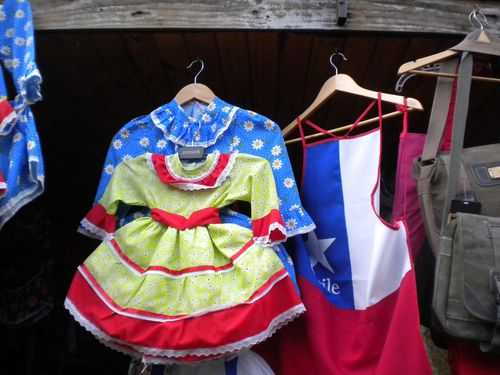 And this year, Chili celebrates its 200 years of independence, so the anniversary is even more important.
Here are some pictures taken last week in Chillán.
(Robes de Cueca, la danse nationale qui apparaissent a ce moment la - Cueca dress, the national traditional dance, sold by many at this time of the year.)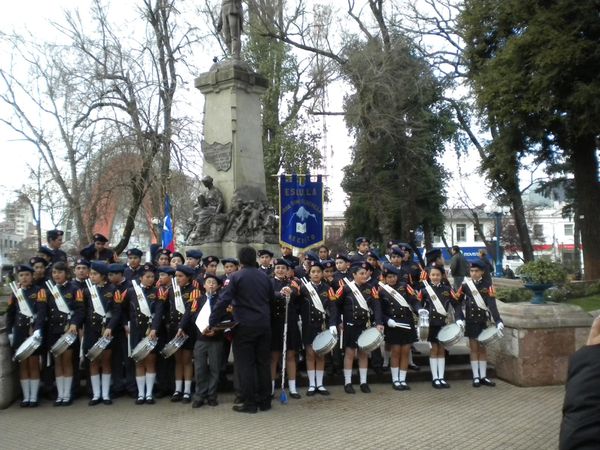 (Juste quand j'etais a Chillán l'autre jour, la fanfare de l'ecole de notre village RECINTO paradait pour l'inauguration des Fetes du Bicentenaire. Alors je les ai pris en photo, parce que c'est pas souvent qu'on parle de nous a la ville!!!
Just when I was in Chillán the other day, the school military band of our village RECINTO was here too, playing for the inauguration of the Bicentenary. So I just took them in picture because it is not so often that they talk about us downtown!)